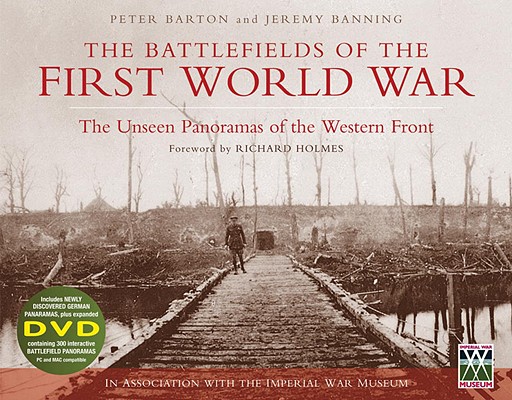 The Battlefields of the First World War: The Unseen Panoramas of the Western Front [With DVD ROM] (Hardcover)
The Unseen Panoramas of the Western Front [With DVD ROM]
Osprey Publishing (UK), 9781845298845, 392pp.
Publication Date: December 30, 2008
* Individual store prices may vary.
or
Not Currently Available for Direct Purchase
Description
This spectacular visual chronicle brings together 200 previously unseen panoramic images of World War I, covering the Western Front from end to end and from all years of the war. Taken at huge personal risk by the Royal Engineers for secret intelligence purposes, they reveal what no other photographs can. Each panorama offers a view of up to 160 degrees, so sharply focused that the individual figures of a waiting sniper or a louse-tortured infantryman can be made out. Introduced by historian Richard Holmes, and published in association with London's Imperial War museum, this collection reveals the landscape of World War I as it really was: rural landscapes and villages appear alongside the ruinous muddy wastes that epitomise war-torn France in the modern imagination.
About the Author
Peter Barton is secretary of the All Party War Graves and Battlefield Heritage Group. He produced the critically acclaimed documentary film" The Undergound War," and is co-author, with Peter Doyle, of "Beneath Flanders Fields."

Peter Doyle is a scientist and military historian specializing in the role of terrain in warfare. In addition to numerous scientific books and papers, he has written: "Tommy's War 1914-1918 "(Crowood 2008), "The Home Front: 1939-45" (Crowood, 2007, with Paul Evans); "Beneath Flanders Fields: The Underground War 1914-18 "(Spellmount, 2004, with Peter Barton and Johan Vandewalle) and "Grasping Gallipoli" (Spellmount, 2005, with Peter Chasseaud). He is co-secretary of the All Party Parliamentary War Graves and Battlefield Heritage Group, and is an elected member of the British Commission for Military History. He lives in London.
Praise For The Battlefields of the First World War: The Unseen Panoramas of the Western Front [With DVD ROM]…
"A review of this book does not do it justice. It simply has to be seen to be truly appreciated. This entire book is highly informative and should be considered by all with an interest in this area." -Timothy Baghurst, The Traveler

"Peter Doyle is a scientist and military historian specializing in the role of terrain in warfare, and Peter Barton is an archaeologist, historian, and filmmaker; both have authored previous books on World War I. Their latest venture, The Battlefields of the First World War: From the First Battle of Ypres to Passchendaele (Osprey, 978-1-84529-884-5) was eight years in the making, and the effort and expertise show... Most of the panoramas look much the same–dozens of blasted landscapes where millions died–but as Barton explains how they were produced and used, their very sameness offers eloquent testimony to the stalled nature of trench warfare. In fact, the book amounts to a concise chronicle of the Western Front, from 1914's "race to the sea" to the ever-more-elaborate fortifications that doomed the armies to murderous stalemate right up to the last offensives of 1918." -Peyton Moss, ForeWord Magazine (September/October 2009)

"The Battlefields of the First World War reveals a new vision of the landscapes upon, above and beneath which millions of men lived, toiled, fought and died on the Western Front. Unique, unseen panoramas of the world's most sumbolic battlefields, from Ypres to the Somme abound in this spectacular visual chronicle of World War I. The addition of the German panoramas to The Battlefields of the First World War constitute a significant new piece of evidence in our understanding of the Great War and add even wider general and military history appeal." -Savannah Jones, SirReadaLot.org (January 2009)
Advertisement