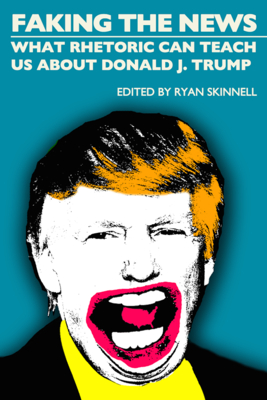 Faking the News
What Rhetoric Can Teach Us about Donald J. Trump (Societas)
Paperback

* Individual store prices may vary.
Description
Donald J. Trump's speaking and writing invite passionate reactions -- maybe he's a bluecollar, billionaire hero who speaks the language of the common man or maybe he's a gleefully illiterate, tremendously unqualified idiot. Whatever the case, he was persuasive enough to get himself elected President of the United States and he's been persuasive enough to keep a majority of his supporters behind him. In Faking the News: What Rhetoric Can Teach Us About Donald J. Trump, eleven prominent rhetoric experts explain how Trump's persuasive language works. Specifically the authors explain Trump's persuasive uses of demagoguery, anti-Semitism, alternative facts, populism, charismatic leadership, social media, television, political slogans, visual identity/image, comedy and humor, and shame and humiliation. Faking the News is written for readers who may not know anything about rhetoric, so each chapter explains a feature of rhetoric and uses that lens to illuminate Trump's rhetorical accomplishments. Specifically, about how he has used and still uses language, symbols, and even style to appeal to the people in his various audiences.
Societas, 9781845409692, 200pp.
Publication Date: May 1, 2018