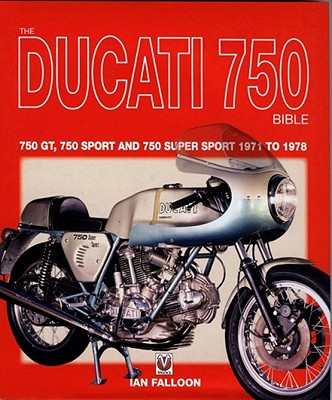 The Ducati 750 Bible (Hardcover)
Veloce Publishing, 9781845840129, 160pp.
Publication Date: August 10, 2006
Other Editions of This Title:
Paperback (3/19/2019)
* Individual store prices may vary.
Description
When Ducati's great engineer Fabio Taglioni designed the 750 Ducati in 1970 there was no way he could comprehend how important this model would be. His design was unlike any other before or since; a 90-degree V-twin with single overhead camshafts driven by a train of bevel gears. Taglioni soon developed his 750 into a Formula 750 racer, and in 1972 beat the rest of what the world had to offer at the Imola 200. With this victory, the desmodromic 750 became a legend. Ducati responded by producing a hand-built limited production desmodromic Super Sport. They also continued to produce the touring 750 GT and sporting 750 Sport until legislation killed them at the end of 1974. Today, this triumvirate of 750s represents the end of an era; the era before cost accounting and government design requirements. These were among the last pure, unadulterated sporting motorcycles built and it is not surprising they have inspired a new generation of retro classics, the Sport Classic of 2005 and 2006.
About the Author
Ian Falloon was born in New Zealand and studied engineering and music at Victoria University, Wellington. After a motorcycle accident brought an end to his career as a symphony orchestra oboist, he began writing articles about motorcycles for magazines including Classic Bike, Cycle World, Motorcyclist, Two Wheels, Motorcycle Sport, and Australian Motorcycle News. His first book, The Ducati Story, has run to several editions and has been published in three languages. The success of The Ducati Story led to a series of Ducati books and histories of Honda, Kawasaki, BMW, and Moto Guzzi motorcycles including Motorbooks titles The Complete Book of Ducati, The Complete Book of Moto Guzzi, The Complete Book of Triumph Motorcycles, and The Art of Ducati. With an interest and passion spanning decades, Ian now concentrates on collecting and restoring older Italian motorcycles, particularly Ducati, MV Agusta, Laverda, and Moto Guzzi. He lives in Melbourne, Australia, and is ably supported in his projects by his family.
Praise For The Ducati 750 Bible…
Motorcycle Trader, February 2007-UK magazine and website

This book focuses on the 750GT, 750 Sport and 750 Supersport of 1971-1978, starting with a short introduction and history of the whys and wherefores of the legendary V-Twin, moving onto the origins, dates design details. These are the bikes that put Ducati on the sporting map, then firmly entrenched them as artisans and engineers. The detailed last 30 pages review the glamorous racing history of the time.

Ian intends the bible "as a historical analysis and not a restoration guide...", but I'd say it will be an essential addition to the library for the latter. Seemingly, very tiny significant corner of the Ducati world, every file or microfiche and personality has been examined, checked behind the ears, dated and recorded here. Although far from a Ducati nerd, I enjoyed this book – true, there were bits about the east-west battery mount in the 74 750 GT that I lightly skipped – but it is beautifully illustrated and designed, with excellent photography.


www.inter-bike.co.uk (UK), August 2007 (visits per month unavailable)
"As the title suggests, this book, written by well-known motorcycle historian Ian Falloon, tells you everything you need to know about these Desmodromic 750 twins backed up with extensive and comprehensive specification panels that will enable you to identify and restore any machine."
Two Wheels magazine, August 2007


If you're lucky enough to own a bevel-drive 750, want to own a bevel-drive 750, or just dream about it, then Two Wheels contributor Ian Falloon's The Ducati 750 Bible is probably required – and certainly recommended – reading.  Particularly, if you're buying one.
During the '70s, Ducati's manufacturing processes left a lot to be desired in terms of consistency, so originality is an extremely vexed question. Falloon has done more than anyone else to sort through the evidence to come up with some answers.
This is now more valuable than ever, given the rising prices of bevel-drives and the surfacing of re-manufactured models that aren't quite what they to seem to be. Perhaps the most famous story concerns a fellow who bought Paul Smart's 1972 Imola-winning machine and, in an attempt to find out more, managed to get Smart's phone number. He asked Smart some technical questions about the machine and Smart answered in some depth. When asked how he could be so sure, Smart replied: "I'm looking at the bike now. It's in my lounge room."
But then again, his teammate Bruno Spaggiari's bike did come to Australia and that's how legends start ...
or
Not Currently Available for Direct Purchase