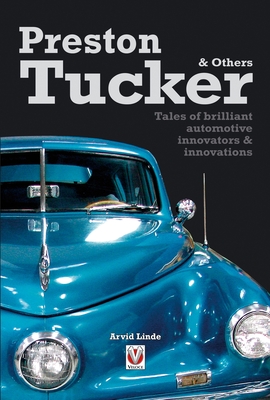 Preston Tucker & Others
Tales of Brilliant Automotive Innovations
Paperback

* Individual store prices may vary.
Description
Although the history of the car stretches for a period only slightly longer than 100 years, it is nevertheless an area with many little-known gems waiting to be uncovered. This book is an alternative look at automotive history, celebrating the nonconformist spirit and a radical approach to designing cars. Based on documented facts, this book also contains dialogues and personal details from some of the most innovative engineers of the last century, helping the reader understand how passion and restlessness drive progress in car manufacturing.  Many inventions that we tend to attribute to the contemporary car giants were in fact made many years ago, and few can remember the names of those talented people that created them. This book gives them due credit, and proves that a dream always wins.
Praise For Preston Tucker & Others: Tales of Brilliant Automotive Innovations…
"Packs plenty to fascinate anoraks of obscure cars and their masterminds." – Classic & Sports Car "Well worth a read." – Octane "This is a fascinating book â?¬Â¿ an excellent selection of pictures bears testimony to the far side of car design." – Classic Cars "Preston Tucker & Others is highly recommended for any auto buff interested in automotive innovators. It celebrates the pioneering innovators of automotive designs who took radical approaches to design, and offers a history lavishly illustrated, well researched and packed with color photos. A top pick for any collection strong in auto innovations and history!" – Bookwatch "A great look at the more unusual elements of automotive history." – Daily Express "Innovation and engineers go hand in hand, and this book celebrate automotive trail blazers such as Preston Tucker and Guy Negre. There's a lot in here, which proves how ahead of their time many of these automotive geniuses really were." – Practical Classics
—
-
"We at Car Articles can thoroughly recommend Preston Tucker & Others - Tales of brilliant automotive innovators & innovations. It offers a rather unique insight into automotive history without being overly dense and difficult to read. As the book states on page 5 in the Introduction - "Let's show some respect to the dreamers. Our world wouldn't be quite so exciting without them." We salute that sentiment, just make sure not to bore too many people at the pub with your new found car knowledge! - cararticles.co.uk
—
-
Veloce Publishing, 9781845840174, 160pp.
Publication Date: April 15, 2011
About the Author
Arvid Linde worked as a car journalist for more than 10 years before moving to the UK from Latvia. He now edits electriccarnews.co.uk website, where he tries to unravel the question of whether the electric car is the answer to the green motoring needs of the 21st century, or just another government gimmick.
or
Not Currently Available for Direct Purchase