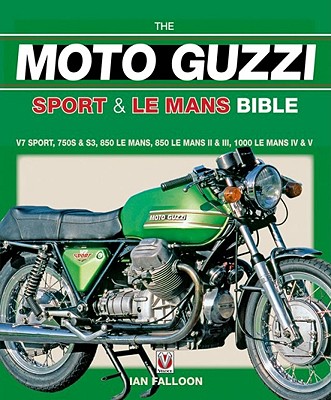 The Moto Guzzi Sport & Le Mans Bible (Paperback)
Veloce Publishing, 9781845840648, 160pp.
Publication Date: June 30, 2007
Other Editions of This Title:
Paperback (4/14/2017)
* Individual store prices may vary.
Description
The Moto Guzzi V7 Sport and Le Mans are iconic sporting motorcycles of the 1970s and 1980s. They were amongst the first Superbikes to combine Italian style, handling and performance. After struggling to survive during the 1960s, Lino Tonti was given the opportunity to create the V7 Sport Telaio Rosso, in 1971. This was so successful that Moto Guzzi again began to concentrate on building sporting motorcycles. When Alessandro de Tomaso acquired the company the future for Moto Guzzi twins looked bleak until the 850 Le Mans was released in 1975. Like the V7 Sport, the Le Mans was a class leading sporting motorcycle and continued into production throughout the 1980s. After the Le Mans II of 1978, Le Mans III of 1980, the Le Mans IV of 1984, and the Le Mans V of 1988, although no longer a cutting edge sports bike, the final Le Mans successfully managed to combine traditional attributes with modern conveniences. Covering the period 1971-1993 and all models (V7 Sport, 750S, 750S3, 850 Le Mans, 850 Le Mans II, 850 Le Mans III, 1000 Le Mans IV, 1000 Le Mans V) and with description of model development year by year, full production data and 150 photos this is a highly informative book and an essential Bible for enthusiasts.
About the Author
One of the world's foremost motorcycle historians, Ian Falloon is the author of more than forty books on motorcycles. His titles include The Ducati 750 Bible, Ducati 900 Bible, The Moto Guzzi Story, Honda Story, Kawasaki Story, BMW Story, The Book of MV Agusta Fours, Moto Guzzi Sport Bible and Laverda Twin and Triple Bible. He has a small collection of classic sporting motorcycles, including a 1974 Ducati 750 Super Sport that he has owned since 1976. A contributor to a number of motorcycle magazines around the world, Ian Falloon was born in New Zealand but currently lives in Australia with his wife Miriam, and sons Ben and Tim.
Praise For The Moto Guzzi Sport & Le Mans Bible…
inter-bike.co.uk, 2008
Another excellent work in the 'Bible' series by Ian Falloon and published by Veloce whose quality motorcycle list continues to grow at a very respectable pace.  Using the same format of excellent period color and black and white plates mixed with modern photography, the 160 pages detail several of the historic Italian firm's iconic machines. In this case there seems to be so much information to impart that each page is crammed with text and pictures. By the end of the book you really do feel that you know every nut and bolt of these models as well as everything there is to know about them.  This will please the owner as will the excellent technical information at the rear. Racing fans will also love the last chapter on racing these bikes. Like all in this excellent series it is also a good general read as well as being for the enthusiast and the whole series in building towards a useful history of (at the moment) Italian motorcycling.   Priced at $59.95, like the others, it easily justifies its price by being a quality publication in both look and feel, as well as content.
Classic Bike Guide, September 2008
 
Same format, different subject, again from lan Falloon. This one looks at the heavyweight transverse V-twins, from the staid looking V7 through to the wonderful Le Mans, right through to the retro-styled 1000S of 1993. Each chapter sees the styling and performance change until the various marques of Le Mans set the standard in style. There's a chapter on racing success, especially with the Dr John Wittner prepared machines of the 80s. Add to this all the detail changes to each model throughout its life span, plus the technical specifications, and this is an obligatory read for any Guzzi fan.
Review from Classic Bike Guide, July 2007
The Moto Guzzi name is a familiar one to anyone in the classic world and many of their designs have become icons of racing - who indeed can ignore the 500cc V-8 GP bike of the '50s? Ian Falloon's new book - Moto Guzzi Sport and Le Mans bible – has a nod to the track successes but concentrates on the transverse V-twin-engined machines that made up the high performance roadster range of the '70s.
Inside the hardbacked book, published by Veloce, Falloon looks at the development of the range - starting with the V7 Sport - and on up to the ultimate expression of the model, the 1000cc Le Mans IV and V. There are dozens of pictures, colour and black and white, squeezed into the 160 page 9 7/8in x 8 1/8in book. The restorer will revel in the detail provided by year by year model development details and production lists to guarantee your bike will be 'spot on.'
Motorcycle Trader, November 2007
Author Falloon, in his intro, describes Guzzis as being "just as beautiful at rest as they are on the move."
The Moto Guzzi bible is the product of Falloon's 30-year relationship with Moto Guzzi bikes – first as a besotted fan and since as an owner and researcher.
The book's focus is on the Tonti-frame-sporting Moto Guzzi twins from 1971 until 1993. It also covers the find retro 1000S version.
Falloon credits his consultations with Ivan de Gier. whose family has a three-generation link with the Moto Guzzi company, for the inclusion of a lot of new information and period photographs.
There's plenty of technical data, even down to part number variations for differing versions of the Guzzis' componentry.
As with most of the classic motorcycle marques. Moto Guzzi's culture and design, development is interwoven with its participation in road racing. Guzzi's racing is well covered, with detailed information about race-bike design and preparation. Rider names include familiar ones from the era, like Hailwood, Agostini and Brambilla. Aussie stars like Ken Kavanagh and Keith Campbell in the '50s and Jack Findlay in the '70s also helped to swell Guzzi's trophy collection.
Think Moto Guzzi racing and its 500cc V8 from the mid-'50s automatically comes to mind. This machine gets good coverage. I was also attracted to the section on the legendary 'Doctor John' era of Guzzi endurance rams. These tough looking Le Mans 1000 AMA-series racehikes were successful in the mid '80s. Distinguished by its hump-back fuel tank and unique two-into-one exhaust, a 'Doctor John' racer as covered by Falloon, is a bike to lift the reader's pulse rate.
Some interesting Guzzi snippets emerge:
• Guzzi's first production model was a 500 single. And they named it the 'Normale' – hardly a moniker to excite and amuse the thrill-seeking, rebel heart.
• Unlike its familiar lateral 90-degree V-twins, its Bicilindrica 500 racer was a longitudinal 120-degree V7 twin. The first version of what would be the V7 engine developed by engineer Giulio Carcano to give his Fiat 500 'Bambino' a bit more grunt. This diminutive hotrod powered by a 650 M-G V-twin, soon became his
favourite car.
Summing up: it's a great read if you're really into Guzzis.
Rating: 5 stars – lotsa Guzzi, well done.
MPN (Motorcycle Product News) magazine, August 2007-US magazine
DIVINE READ
The Moto Guzzi V7 Sport and Le Mans were amongst the first 1970s era Superbikes to combine Italian style, handling and performance. After struggling through the '60s, the birth of Guzzi's V7 Sport Telaio Rosso in 1971 helped propel the venerable bike brand's success and led to the 1975 release of the Le Mans, which in turn solidified the company's momentum in the sporting motorcycle segment. The Moto Guzzi Sport & Le Mans Bible features the entire history of both bikes in the years spanning 1971 to 1993. Full specs of both model's development year-by-year, complete with full production data, is augmented by 150 photos. The expert behind this page-turner is Ian Falloon, one of the foremost motorcycle historians, with more than 20 books under his belt. His personal collection of classic sporting motorcycles includes a 1973 Moto Guzzi V7 Sport, so this New Zealander really knows what he's talking about!
Falcone Newsletter, part of the The Moto Guzzi Owners Association of NSW, Australia, by Brett Rosenthal - June 2007

I have been fortunate to have been sent a pre-production copy of Australian author Ian Falloon's latest book – 'Moto Guzzi Sport and Le Mans Bible' by the publishers Veloce books in the UK.

The book is centered on the development of Moto Guzzi Sports bikes from the early V7 to the V7 Sport and onto the Le Mans series up to 1993, as well as racing bikes including Dr Johns endurance racer.

Ian has compiled lists of individual changes from model to model as well as changes within each series of models including a brief development of each model. Lots of previously unseen period photos in both color and B&W including many Australian bike magazine photos, close up detailed shots of parts. Lists of frame and engine numbers, charts giving the total production number of each model. All very comprehensive. The text in this book has been proof read by Ivar de Gier* so you can be assured the information text is correct.

If you have an interest in these bikes this is a great book and well worth adding to any other Moto Guzzi books on your shelf.

*Ivar de Gier is Dutch Moto Guzzi enthusiast, he has an extensive collection of Guzzi  twins and singles including some rare ex-factory singles.For some years he had direct access to the factory historical records and has interviewed many Guzzi factory people over time. Ivar also proof read Ian Falloon's previous book 'The Moto Guzzi Story'.
or
Not Currently Available for Direct Purchase