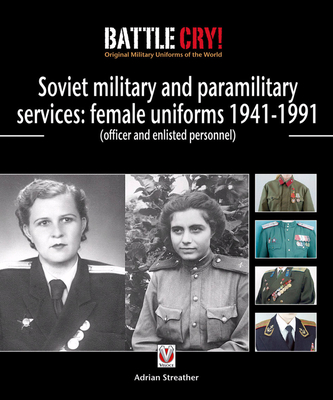 Soviet Military and Paramilitary Services (Paperback)
Female Uniforms 1941-1991: (officer and enlisted personnel) (Battle Cry! Original Military Uniforms)
Veloce Publishing, 9781845840679, 128pp.
Publication Date: January 15, 2011
* Individual store prices may vary.
Description
Collecting uniforms of the Soviet Union is fairly new, because the Soviet regime did not collapse until December 1991. This book picks up the story of the women in Soviet military and paramilitary uniform that came into service in 1941, and takes the reader all the way through to 1991.  Extensive effort has been made by the author to include every possible detail relating to Soviet women's uniforms in all military and paramilitary services. Translated tables providing an extensive look at rank, service and Corps identification have been included.   The book features an extensive amount of information for the collector of Soviet women's uniforms – not just through photographs and illustrations, but by providing buyer's tips and important information to help identify originals from reproductions. There are no illegal fakes around, because the Soviet Union never had any copyright laws in this area, but there are many new items on the market which are being passed off as original, like those produced by TV, film and theatre suppliers. This book will help the discerning collector spot the difference.
About the Author
Adrian Graham Streather was born on December 25, 1958. Upon leaving school he joined the Royal Australian Air Force (RAAF) in 1975, where he trained as a Scientific Instrument Maker and gained additional qualifications in the electronics field. After a varied career in the aviation industry, he now lives in Australia with his family. Adrian is a prolific author, specialising in the Porsche marque, and has written a number of books that have been published by Veloce, including the Essential Companion series, and several in the Essential Buyer's Guide series.
or
Not Currently Available for Direct Purchase