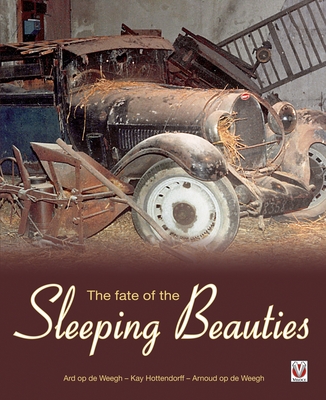 The Fate of the Sleeping Beauties (Hardcover)
Veloce Publishing, 9781845840709, 160pp.
Publication Date: October 15, 2010
* Individual store prices may vary.
Description
The 'Sleeping Beauties' – an array of neglected Bugattis, Lancias, Ferraris, Alfa Romeos, Cords and Aston Martins on a rural French estate – have fascinated car lovers worldwide since 1983, when they were immortalized in a sequence of photographs taken by Herbert W. Hesselmann. For 25 years, the full story behind the collection and its fate  has remained untold – until now.
About the Author
Kay Hottendorff, born in 1969, is an electrical engineer from Northern Germany, who has been fascinated by classic cars since childhood. Kay began investigating the background and fate of Michel Dovaz's Sleeping Beauties collection in 1996, when he first came across the famous 1983 photo series. The cars have haunted him ever since. Nowadays, Kay prefers cars in unrestored or even "barn find" condition over any restored classic. In his opinion, over-restored cars lose their identity and history.
From a very young age Ard op de Weegh was obsessed with cars, visiting showrooms and car events with his father to see the most beautiful cars ever built. Becoming addicted to the heady mixture of gasoline and oil, as he grew older his love for the automobile continued to grow. In 2008, Ard wrote his first automotive book, The Fate of the Sleeping Beauties, together with his son Arnoud, to whom he has passed on his love of cars. Father and son have traveled around Europe for many years, seeking out the most beautiful cars, and have discovered some extraordinary barn finds, many of which feature in the book. In 2009 Ard and Arnoud were asked to write about the fabulous Schlumpf collection and the intriguing story behind it. At first they declined, because there were already many books on the subject. However, after investigating the history, they discovered that the "Schlumpf affair" was actually very different than originally reported. The pair decided to write the book to tell the true story behind the affair, and Schlumpf: The intrigue behind the most beautiful car collection in the world was the result.
Arnoud op de Weegh inherited his love of cars from his father, Ard, with whom he has co-authored two books. Arnoud is a true enthusiast for classic cars, and his particular passion is for pre-war cars.
 
Praise For The Fate of the Sleeping Beauties…
"The discovery of the automotive hoard of Michel Dovaz in 1983 is legend, but the subsequent history of the barn-find exotics found in Villemaréchal is less well known. Now Dutch enthusiast Ard op de Weegh, son Arnoud and researcher Kay Hottendorf have brought the gripping saga up to date." – Classic & Sports Car
"The lovingly researched tale of one of France's most mysterious automotive collections." – Telegraph Motoring
"The author carefully charts the story of the eventual transformation of the Sleeping Beauties from wrecks to show cars. Enjoy this book containing an equally gripping and tall tale, which runs to 160 pages and has 277 fabulous before and after photographs of just the kind of sleeping beauties we'd love to awaken with a kiss." – Gay Classic Car Group
 
"This sympathetically written, beautifully illustrated and engaging hardback tells the story of how the collection came to exist and how many of the models were restored and have become impressive showpieces." – Hull Daily Mail
"Painstakingly researched, with detailed descriptions of each of the 55 cars, their histories, their current locations and their physical states – and that's everything from a Bugatti T55 to a VW K70." – Octane
"For anyone who was left dreaming about those beat-up Bugattis and corroded Cords, 'The Fate of the Sleeping Beauties' is heavenly reading." – Old Cars Weekly
"All the important details are covered – relocation, barn find museum, sale and restoration. There are detailed descriptions of every one of the 55 Sleeping Beauties, with more than 250 color photos." – Old Stager
"If you like the drama of finds and discoveries, this one will be for you." – The Automobile
"Interviews with the owner of the collection and great 'before and after' pictures makes this the ultimate bible for classic fans." – Auto Express
"Really fascinating stuff." – Classic Motor Monthly
"It's a great story … the research is impressive … there's a great amount of detail here." – Classics Monthly
"The book is workmanlike and straightforward in its presentation as it introduces us to Monsieur Dovaz and then, car by car, to the various vehicles heretofore known merely as photos of well-worn sleeping beauties. This is truly a book of provenance." – SAH Journal 
or
Not Currently Available for Direct Purchase