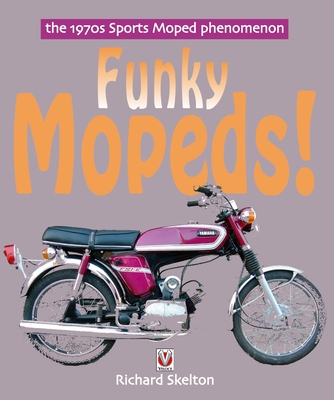 Funky Mopeds! (Paperback)
The 1970s Sports Moped phenomenon
Veloce Publishing, 9781845840785, 144pp.
Publication Date: May 1, 2007
* Individual store prices may vary.
Description
If you're red-blooded and somewhere between 35 and 50 the chances are that your first bike was a sports moped. This book takes you on a nostalgic full throttle trip back to the heady days of the 1970s and early 80s when these fabulous little superbikes were available to 16 year-olds. Packed with photos from past and present, this book will revive wonderful memories of the machines, the people, the fashions, and even the music of the time. Includes coverage of AJW, Batavus, Casal, Cimatti, Derbi, Fantic, Flandria, Garelli, Gilera, Gitane, Honda, Kreidler, KTM, Malaguti, Motobecane, Negrini, NVT, Puch, Suzuki, Testi, Yamaha and Zundapp.
About the Author
Richard Skelton has been a motorcyclist since first taking to the road on a Yamaha FS1-E on his 16th birthday in 1976, and his first book, Funky Mopeds, was about the 1970s sports moped phenomenon in which he played an active part.After 30 years working in the television industry as a sound editor, and time spent working as a newspaper reporter, as well as a writer for BikeSport News and other racing publications, he now combines writing books about motorcycles and classic cars with running a small B&B in the Yorkshire Pennines.
Praise For Funky Mopeds!: The 1970s Sports Moped phenomenon…
Scooter-forums.com, Spring 2007

Benny Hill was at number one with 'Ernie – The Fastest Milkman In The West'. It was 1971 and the UK Government was about to impose new legislation restricting 16 year olds to 50cc mopeds. 'Funky Mopeds' is THE definitive work on the resulting frenzy of innovation from motorcycle manufacturers across the globe.

In 'Funky Mopeds' Richard Skelton tells the fascinating story, written by and starring the people who were there, of the wonderful machines that were so dear to the hearts of so many spotty 70's teenagers. A celebration of the sports moped, charting the history of a genre unwittingly created by the powers-that-be and killed off by more legislation just five years later. This book re-captures the spirit of happy and carefree times and looks at the bikes that gave freedom and mobility to a whole generation of teenagers.

With over 340 color pictures, the book has descriptions of all the sports mopeds, the stories of the people who rode them, todays enthusiasts, restoration tips and a whole chapter devoted to the famous 'fizzy' (the Yamaha FS1-E)

This is a stunning and hugely detailed book. Take it from me, you will not want to put it to down.

With over 340 color pictures, the book has descriptions of all the sports mopeds, the stories of the people who rode them, todays enthusiasts, restoration tips and a whole chapter devoted to the famous 'fizzy' (the Yamaha FS1-E)
or
Not Currently Available for Direct Purchase