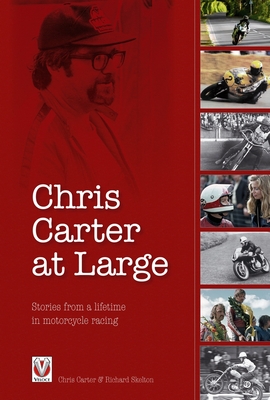 Chris Carter at Large (Paperback)
Stories from a lifetime in motorcycle racing
Veloce Publishing, 9781845840914, 240pp.
Publication Date: December 14, 2015
* Individual store prices may vary.
Description
Few people have been as deeply involved in motorcycle sport as Chris Carter, a larger than life character and raconteur who was for a great number of years a journalist, commentator and broadcaster at the very top level of motorcycle sport. This memoir is a funny, fascinating and unique insider view of professional motorcycling over more than six decades. From scrambling in the 1960s, to four decades of international road racing - including Daytona and Macau - and on to trials and speedway. Packed with remarkable stories and amusing anecdotes, as well as interesting reflections and astute observations, it is a light-hearted, highly readable autobiography which lifts the lid on an extraordinary world. In past times, racing paddocks were open and friendly, and Chris felt part of a big, happy family. He lived cheek by jowl with the very top riders and shared their triumphs and tragedies; to many, he was a friend and confidante. Honest, frank and direct, Chris tells things exactly as they were, and provides insights into a fast disappearing world.
About the Author
Chris Carter has been a motorcycle broadcaster, commentator and journalist for more than 60 years. Few people have been as deeply involved in motorcycle sport. While still a boy, Chris found a niche as a precocious young circuit commentator and club reporter. In the 1960s, he was Motorcycle News' motocross correspondent, and for nearly 40 years, from the early 1970s onwards, he travelled the world covering international road racing. He is now semi-retired, but still works as a press officer for British road racing clubs and writes regular features for Classic Racer magazine.
Richard Skelton has been a motorcyclist since first taking to the road on a Yamaha FS1-E on his 16th birthday in 1976, and his first book, Funky Mopeds, was about the 1970s sports moped phenomenon in which he played an active part.
After 30 years working in the television industry as a sound editor, and time spent working as a newspaper reporter, as well as a writer for BikeSport News and other racing publications, he now combines writing books about motorcycles and classic cars with running a small B&B in the Yorkshire Pennines.
Praise For Chris Carter at Large: Stories from a lifetime in motorcycle racing…
"A light-hearted book for you to enjoy ... this is not one to leave lying around to impress visitors but I am sure it will spend a lot of time travelling when the same friends borrow it" - Motor Cycling Club (MCC)
"an in depth, warts and all account of the riders who work hard and play hard ... [an]extremely interesting book ... I learnt a lot from this book and would recommend it without hesitation to those interested in past motorcycle sport." - On The Level
"Sometimes cutting, often funny, always truthful ... a truly enjoyable, informative and fascinating read." - Nacelle