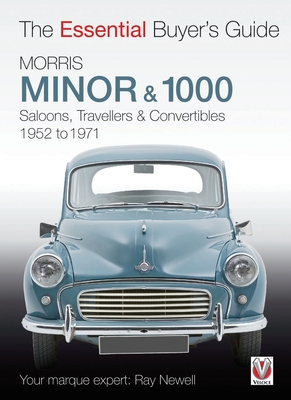 Morris Minor & 1000 (Paperback)
The Essential Buyer's Guide
Veloce Publishing, 9781845841010, 64pp.
Publication Date: August 15, 2007
* Individual store prices may vary.
Description
The Morris Minor regularly tops the polls in the Classic Car press as Britain's most popular classic car. The owner's Club boasts 10,000 members in the UK. Other clubs worldwide have thriving memberships, too. STOP! Don't buy a Morris Minor without buying this book FIRST! Having this book in your pocket is just like having a real marque expert by your side. Benefit from Ray Newell's years of Morris Minor ownership: learn how to spot a bad car quickly and how to assess a promising one like a professional. Get the right car at the right price! Packed with good advice from running costs, through paperwork, vital statistics, valuation and the Morris Minor community, to will it fit in your garage and with your lifestyle? This is THE COMPLETE GUIDE to choosing, assessing and buying your dream car.                              
About the Author
Ray Newell is a well known and respected figure within Morris Minor circles. He has been Secretary of the UK based Morris Minor Owners Club since 1983 and has contributed significantly to the Club's growth and development in that time. He has written extensively about the Morris Minor, but of the eight books he has written, this is the most detailed and comprehensive. Ray has owned a variety of Morris Minors over the years but currently his pride and joy is a rare 1949 Series MM Tourer. He has recently acquired an equally rare 1954 Series II van from New Zealand, which is currently undergoing a full restoration. Ray lives in Derbyshire, England.
Praise For Morris Minor & 1000: The Essential Buyer's Guide…
Mark Holman for New Zealand Classic Car, October 2007
NZ magazine
As with previous books from this series, these are 64-page soft-cover books, small enough to fit into a coat pocket and pretty well guaranteed to come in very handy if you are buying any of these cars from very different ends of the classic scale.

All follow a similar layout, starting with 'is it the right car for you?', and then going through the 15-minute quick check (walk away or not?) followed by a very detailed checklist which you can use to 'mark' the car, and what to look out for on a test drive. There are also chapters on whether you want to restore a model, paint problems, things to watch out for if the car has had little recent use, and lists of clubs and spares specialists.

The books are well-illustrated, and the advice looks really practical. They don't pretend that classic car ownership is easy, or necessary profitable in purely financial terms, yet they are clearly written by guys who are enthusiastic about the pleasure you can get from a good example of any of these cars.

While I have never been in the market for them, I would want to have one of these books if I were – definitely recommended.
The Motor Cycling Club, 24th May 2008
UK club newsletter
Circulation: approx 1000

Usually when Veloce Publishing sends me a book for review its size causes the postman to stagger and its price makes me think of second mortgages. This week's offering though is different. It's one of Veloce's excellent Essential Buyer's Guide series and is really down to earth in that it deals with the Morris Minor 1000 series, cars beloved by none other than our President and Entry Taker.

At just under $20 anyone contemplating buying one of these charismatic vehicles cannot afford to be without a copy and indeed it's most useful reading for anyone contemplating the purchase of a classic car of any sort. It's a mine of useful information on the marque giving details of every model and variation, good and bad points including possible failings and even where to obtain spares and service when all else fails. I must admit being amused by chapter one which is headed 'Is it the right car for you?' – A question I answered with an emphatic 'No' way back in 1949 after driving an early example. Despite that I still enjoyed this little book and recommend it to all.

Incidentally it always surprised me that so little was done by the Minor in competition when the A35, which looked more unlikely, did so well. There was one exception though and that was the well known 'Grannywagen' which lived in the back of the BMC Comp Shop at Abingdon and appeared in international rallies whenever someone noticed a hole in the regulations through which Pat Moss could drive it.
Australian Classic Cars, April 2008
Review by Patrick Quinn
Australian magazine
Circulation: unknown

If you are on the lookout for a specific classic car, you can find yourself bewildered by the amount of information available. For some marques, there are books galore to read and also the advice that members of clubs happily provide. It can be confusing and sometimes it's useful to have a reference source that cuts to the chase. That's why I like this smaller format 'Essential Buyer's Guides' from Veloce.

This month I had a close look at two new editions and, as a past owner, I was especially interested in the XJ6 guide. Each follows a similar format containing information on what it's like to live with the model in question, values, differing models and using the car in modern times. Each book divides the crucial inspection into two. First, the 15-minute evaluation that tells you whether to investigate further or to just walk away and second, a lengthy and thorough inspection in which you go over everything. It's clear that I bought my XJ6 with my heart and not my head. Each book then moves on to how you should buy the car, whether to restore or not, problems from lack of use and finally where to find parts and what clubs to join. Very useful little books, they make essential buying for owners, would be or otherwise.
or
Not Currently Available for Direct Purchase