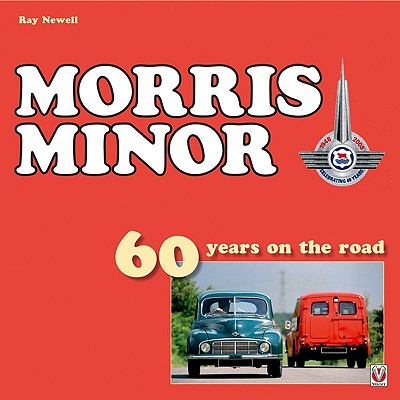 Morris Minor (Hardcover)
60 Years on the Road
Veloce Publishing, 9781845841577, 160pp.
Publication Date: February 1, 2008
Other Editions of This Title:
Paperback (8/21/2018)
Paperback (11/17/2009)
* Individual store prices may vary.
Description
The post war Morris Minor, designed by Alec Issigonis was one of the most popular British cars. 2008 will mark 60 years since the first production models rolled off the production lines at Cowley in Oxfordshire. In this celebratory publication, Ray Newell looks in detail at the development of the wide range of models produced during a production run which spanned twenty two years in the UK. Using mainly contemporary materials spanning four decades he transports the reader back to an era when the pace of life was much slower and the marketing of the vehicles was considerably different to the slick advertising of today. The worldwide appeal of this trend setting vehicle is examined in the context of the "Export or Die" mentality which dominated post war Britain as are the innovative production methods used to ensure that Morris Motors Ltd lived up to their "Quality First" reputation. Variations from standard specifications are considered with reference to mechanical up rating, different body styles and the use of period accessories to enhance further the comfort and styling of what was dubbed "The Worlds Supreme Small Car." Issigonis sketches of the prototype cars, sales brochures, promotional materials, and rare and unusual photographs make this a fascinating book.
About the Author
Ray Newell is a recognized authority on the Morris Minor having written extensively on the subject over a number of years. He is a true enthusiast with a wealth of experience in owning, driving and restoring Morris Minors. He is also the National Secretary of the UK based Morris Minor Owners Club, a position he has held since 1983. Ray has recently written the Morris Minor Essential Buyers Guide in the Veloce series and this new and exciting publication has been compiled to celebrate the land mark achievement of 60 years since the Morris Minor entered production. Using contemporary materials Ray has drawn on his expansive personal collection as well as those of fellow enthusiasts to produce a striking publication which transports readers back to the decades when the Morris Minor was in production.
Praise For Morris Minor: 60 Years on the Road…
"A superbly produced and characterful reminder of a quintessentially British car that stole the hearts of millions of motorists, not just in the UK, but all over the world." – Gay Classic Car Group



Minor Commercial, 2008
Review by Russell Harvey
Magazine for the Minor LCV Register
Wales
This latest Minor book is produced to commemorate the 60th anniversary of the humble Morris Minor. I can't believe that 10 years have past since the 50th celebrations took place in Oxford. The author Ray Newell has produced many excellent volumes on the Minor marques, and this is no exception. All models are covered in this volume and on all continents. It also features a look into the factory processes including Exports & CKDs that produced this 'iconic' vehicle that is so instantly recognizable around the globe.
The Morris Minor was designed by Alec Issigonis and the original sketches by him are reproduced, the book is not littered with archive images, but instead relies on the cleverly produced adverts 'of the time' that were produced during the production life of the Morris Minor. These include charming line drawings both in color and b/w that add tremendous character. Also there were many images too in these brochures and sales leaflets, which all help to provide the nostalgia trip down memory lane. Well done Ray.
Octane, May 2008
UK magazine
Circulation: unknown

The great attraction of this very well-illustrated hardback, written by a Minor expert, is that the text plays second fiddle to hundreds of enchanting period ads and brochure shots, including rarities from overseas markets such as India. Vans, pick-ups and Travellers are given lots of coverage, too. It's colorful and good value.

The Caravan Club Magazine, May 2008
UK publication
Circulation: unknown

I have a bit of a soft spot for the Morris Minor. Well, it was the car in which I surrendered my driving virginity - a memorable moment for a fresh-from-school apprentice mechanic. Also, my mechanicking teeth were cut on the cheerful little Morris, among others, and it's been a dear friend ever since. So I'm delighted to see such a colorful, lively and nicely-presented book to celebrate its 60th. The author is an acknowledged Minor authority who puts detail and insight into the text.

I thought I knew a bit about Minors, yet there's much, for me to learn here. But it's no dry old marque history – among the period advertising material, photos and drawings lurk anecdotes and 'inside' stories about this most successful British car: the first to pass a million examples. Alec Issigonis designed it and many more mature members will remember it and possibly, at one time, have towed with it. I know someone who still does. My only criticism is that the print is a bit small. Or is it that I'm not too far off the age of the Minor?

Happy 60th, Moggy!
Australian Classic Cars, June 2008
Review by Pat Quinn
Australian magazine
Circulation: unknown
Without doubt, the Morris Minor is the most enduring of all British classic cars and I would suspect that true believers relish every new publication that reaches the bookshops. This year marks the 60th anniversary of the MM and this new publication commemorates this momentous milestone. What I find interesting is that it tells the story of the birth and the production life of the MM, not through photos of highly polished restored examples, but through reprints of brochures, period photos, promotion material and sales documents. It starts with a short section on Alec Issigonis and then works its way through the early low-light models and the first of the high-lights. It goes into detail not only about Minor history in the UK, but also about all those countries to which the MM was exported in complete, CKD or PKD form. You'll find details on those cars that were built to fulfill specific needs in countries like Holland and India. A chapter on period extras is included as well as one on bigger brothers like the Morris Oxford and Morris Six. A charming publication.
or
Not Currently Available for Direct Purchase