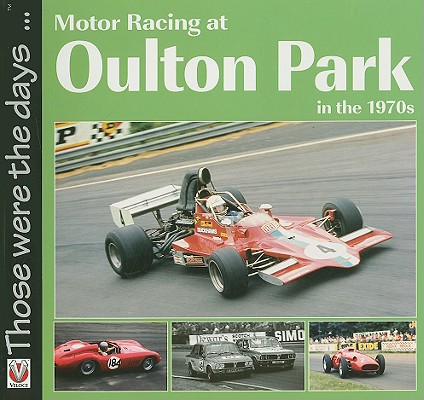 Motor Racing at Oulton Park in the 1970s (Those were the days...) (Paperback)
Veloce Publishing, 9781845841645, 96pp.
Publication Date: August 15, 2008
Other Editions of This Title:
Paperback (2/1/2007)
* Individual store prices may vary.
Description
In the 1970s, Formula 5000 was more than filling the gap left by contemporary F1 cars and the major races at the popular Cheshire circuit of Oulton Park, the Gold Cup and the traditional Good Friday meetings, were as spectacular and exciting as ever. New events such as the Avon Tour of Britain brought occasional visits from established stars such as James Hunt and Graham Hill competing alongside Roger Clark, Billy Coleman and other great names from the world of rallying. Meanwhile, in Formula Ford and F3 the stars of the future were to be seen. World champions to be, Alan Jones, Nigel Mansell and Nelson Piquet raced regularly at Oulton as did future F1 team owners Eddie Jordan and Tom Walkinshaw. Stir into the mix saloons, single seaters and sports cars vying for glory in a growing number of national championships and one-off club races and you have the recipe which kept Oulton Park at the forefront of British motor racing. The new, shorter Foster's circuit, introduced in 1974 meant more laps per race and more action for the spectators. The pictures in this book capture the era perfectly and bring it back to life. With 100 color and black and white photos, many previously unpublished.
About the Author
Peter McFadyen has been photographing motor sport since the 1960s and his work has appeared in many books including the leading annual, Autocourse. For many years, he contributed photographs and race reports from Oulton Park, Aintree, Donington and other UK circuits to magazines such as Motoring News (now Motorsport News) and especially Autosport. His first volume in the series "Those were the days" covered racing at Oulton Park in the 1960s and was published in 2006. Currently, he races a Lotus Elan in the Classic Sports Car Club's (CSCC) Swinging Sixties series and other classic races. He is also a member of the Lotus Drivers Club for whom he has served as Competition Secretary and as Editor of the club's magazine, Chicane, to which he is still a regular contributor.
Praise For Motor Racing at Oulton Park in the 1970s (Those were the days...)…
There's something instantly compelling about the 'Those were the days ...' series. This second study of the Cheshire circuit inevitably kicks off with its blue ribbon meet, the Gold Cup. And that's no bad thing, with the likes of Gethin and Schuppan head-to-head in Lolas. Plus there's the surreal sight of F5000s in the snow, over a freak Easter in '75. Big names also crop up in 'Rising stars,' such as Eddie Jordan dicing with Tiff Needell and Derek Warwick in FF1600s. There's some great tin-top action, too, with Steve Soper and Alan Curnow's epic Mini Clubman battle, Andy Rouse and 'Yogi' Muir wheel-to-wheel in Dolly Sprints and James Hunts sideways in Richard Lloyd's Camaro on the Tour of Britain. All that's missing is Colin Crabbe's Mercedes W125. An ideal early stocking filler. — Classic & Sports Car
In the 70s Formula 1 had some many championship races they no longer wanted to enter non-championship races. This left the racing fans wanting something else they can watch locally. At Oulton Park Formula 5000 filled the gap as did the traditional Gold Cup. The book is very brief and contains little detail, it mainly concentrates on photos with little history of stories of the circuit in this era. The photos are very good and show what Oulton Park was like in the 70s. This is good for a simple flick through with good pictures but has little more to offer. — Track & Race Cars
or
Not Currently Available for Direct Purchase