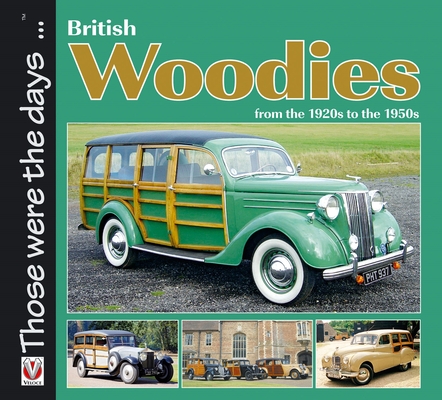 British Woodies
From the 1920s to the 1950s (Those were the days...)
Paperback

* Individual store prices may vary.
Description
In the 1920s, '30s and '40s, wooden-bodied shooting brakes, estate cars and station wagons were commercial vehicles made in Britain, mostly for utilitarian roles. They were built in relatively small numbers, often by small, lesser-known commercial bodybuilding firms, and required high levels of maintenance to ensure anything resembling a long life. Every chassis from Alvis, Austin and Bentley to Standard, Vauxhall and Wolseley was built as a Woodie at some stage, and they reached the peak of their popularity in the immediate postwar years when steel was in short supply and the majority of new cars were being built for export.

Some vehicle manufacturers sold wooden-bodied utilities under their own name, but most were built in small workshops under contract to vehicle dealerships or selling direct to the general public. However, labour intensive constriction, high maintenance requirements and the introduction of the unitary chassis by Britain's car makers all contributed to the eventual demise of the British Woodie. Today, there's a resurgent interest in British Woodies across the world, with an increasing number of cars being restored and cherished.

The work of hundreds of small coachbuilder firms is highlighted here, and illustrated with 100 rare and previously unpublished photos. The British Woodie is undoubtedly a thing of beauty, and this book is a tribute to the skills of the coachbuilders that built these amazing wooden wonders.
Praise For British Woodies: From the 1920s to the 1950s (Those were the days...)…
Classics Monthly, September 2008
UK magazine
 

As club chairman of the Woodie Car Club, Colin Peck is the ideal author for this fascinating glimpse into British part-wood estate cars. The early half of the 20th century was the golden age, and Woodies weird and wonderful are crammed into this book, from humble Austins and Fords to a Jaguar XK140 and Rolls-Royces. The Second World War saw many exotic saloons turned into wooden-bodied ambulances - there's something very appealing about a sporting Bentley Woodie. There are also a handful of rare assembly line photos giving a fascinating insight into the handbuilt production of these cars. By the late 1950s, with the exception of the Morris Minor Traveller, the Woodie had all but died out. The last chapter looks at a few daunting restoration projects that will almost certainly bring tears to your eyes. Yes, it's specialist subject matter, but one that will appeal.
-
Classic Sports Car, September 2008
UK magazine
Circ: 82,000

Who better to write a book on British-built woodies than the founder of the Woodie Car Club? The latest in Veloce's square paperback 'Those were the days ...' series, this 90-page edition is packed with insight and photos. Pre-war designs are covered briefly, the main focus being 1946-54, the 'golden years of the shooting brake' when woodies were exempt from purchase tax. Peck relates how Austin was first to launch a factory-approved woodie - built by Papworth Industries - soon followed by Lea-Francis. Chapters review wartime woodies, chassis builders and specialist body firms; illustrations are a mix of period shots of long-lost cars and a gallery of survivors including Peck's Austin A70 Hampshire Countryman. Rarest of all is a one-off Invicta Black Prince with a bizarre woodie body by Associated Coachcraft.
New Zealand Classic Car, October 2008
NZ magazine
 
In this book, another in Veloce's 'Those Were The Days' series, Colin Peck takes an affectionate look at what he calls British Woodies – although somehow the term remind me more of California than of Lea-Francis. After an overview of their birth as a utility vehicle for country estates, Peck looks at the use of woodies in WWII (when they were sometimes cut down for desert welfare); the attraction of their tax-exempt status; and their slow decline because of the complexities of their manufacture, the need for frequent maintenance, and the rise of the unitary body structures. There are separate chapter on marques that had some woody bodies made on them (Allard, Morris) and body builders, many of which weren't traditionally associated with the motor trade.   Peck doesn't claim to have written a definitive history, but it's still an interesting read. You're just as likely to buy the book for the photos anyway. There are about 100 of them, a mix of contemporary photos and shots of restored woodies. You see Austin A70 Countrymen on the assembly line at Papworths, and other cars that are much more of a one-off like the unique Invicta Black Prince. Most of the cars shown are pretty square-sided and traditional, like a Bentley R-type and a Morris Y, but there are some fascinating variations such as the Allard P2 Safari, and a fastback woody body on Riley RM.  This book is reasonably priced, and well worth a look.
Classic Motor Monthly, September 2008
UK magazine
Circ: 14,500+

A book that I had eagerly been awaiting was 'British Woodies' (from the 1920s to the 1950s) by Colin Peck. It's from Veloce's 'Those were the days' series. As Colin admits in his introduction the book is not intended to be a definitive history, but more an introduction to the subject. This is a very good introduction to the subject, many illustrations with excellent historic and modern photographs: Highly recommended.
-
Octane, October 2008
UK magazine
 
A really interesting little softback about a previously unexplored subject, this book contains some great archive shots– especially of WW2 utilities, and of shooting brakes under construction. Spanning the 1920s-1950s, it outlines the surprisingly large number of body builders involved, and is brightened with color photos of surviving cars.
Veloce Publishing, 9781845841690, 96pp.
Publication Date: July 15, 2008
About the Author
Colin Peck has been collecting, restoring and writing about classic cars for almost 30 years. He has also been involved in the road transport industry since the 1970s and his knowledge of the subject extends from writing for magazines and books and working as a public relations consultant in the industry.  His car books include The Last Real Austins and British Woodies, in the Those Were the Days series, and his truck books include DAF Trucks since 1949 in the Truckmakers series, as well as Off-Highway and Construction Trucks and Trucks of the World Highways.
or
Not Currently Available for Direct Purchase