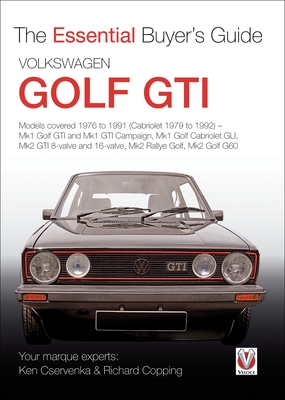 Volkswagen Golf GTI (Paperback)
The Essential Buyer's Guide
Veloce Publishing, 9781845841881, 64pp.
Publication Date: February 15, 2009
* Individual store prices may vary.
Description
While old MkI Golfs have by now largely rusted away, the availability of MkII models at giveaway prices is plentiful ... that is until three magic letters – GTI – appear on the car's front grille and hatch. Find a good example of the MKI with the aid of this guide and you are in clover! The Buyer's Guide carefully charts all the models that an enthusiast just has to own, from the iconic late model MkI with its pocket rocket 1.8-litre engine and 5-speed box, through to the exclusive, extremely powerful and much sought after limited edition Rallye Golf. With both mileage and particularly condition having a marked affect on potential prices, the authors give sound advice on what is worth restoring and what, however tempting, is likely to cost a new owner an un-recoupable fortune. Weak points, rust traps, and potential mechanical defects are laid out for the reader, with clear Golf-specific guidelines offered on the practicalities of rectifying such problems. The authors also embrace both the customized and mechanically modified examples of the MkI and MkII GTI, with each aspect of Golf ownership meticulously captured on camera.
About the Author
Having owned and repaired various models of Volkswagen since 1969, Ken Cservenka is a well known figure around the VW show scene. As well as being an occasional Concours d' Elegance judge, he is well known for his photography. His articles, photography and answers to technical queries have appeared in several well known magazines. He has also provided photography for several books and has co-written books for the Veloce Buyers Guide series.
With the best part of thirty VW titles to his name, ranging from Beetle books to Buses and Golfs, Richard Copping is regarded as a leading author and marque expert on matters Volkswagen in Britain and beyond. His credentials are impeccable, having learned to drive using a VW Beetle, he has owned Volkswagens ever since. A Concours judge, an avid collector of VW literature, and particularly so the oldest and rarest brochures, Richard has a monthly column in Volkswagen Camper and Commercial magazine, as well as regularly contributing features about some of the best VWs to be seen out and about. 
Praise For Volkswagen Golf GTI: The Essential Buyer's Guide…
"Everything is explained in an easy to understand manner so a variety of readers with varying educational levels can understand it. All in all a very good read and very essential for a new owner to buy." – vwgolfmk1.org.uk

"With its comprehensive survey of the cars in question, this small, pocket-sized book conducts would-be Golf purchasers through the processes of selecting a suitable car – including a step-by-step guide to the rust and mechanical checks required to make sure your final choice is sound." – New Zealand Classic Car
 
Retro Cars, February 2009
UK magazine
 
In the market for a Golf GTI? Well before you go out and buy one, it's well worth investing $19.95 in this Essential Buyer's Guide. The book covers models produced between 1976 and 1991 – essentially all Mk1s and Mk2s, including Cabriolets, 8-valve and 16-valve renditions, Rallyes and G60s.  Although mint examples can fetch high prices, a quick eBay trawl will have you noticing an abundant supply of GTIs for minimal money. That said, if you don't buy a good one to start with, costs will soon rack up. So with this book, you should be able to spot a good, sound car and save a few bob in the process.
 
Volkswagen Driver, January 2009
UK magazine
 
Compiled by veteran VW aficionados, Richard Copping and Kenneth Cservenka, this new pocket-sized guide to the first two generations of Golf GTI charts all the individual models and specifications, from the iconic Mk1 through to the much sought-after Rallye Golf G60.   History, technical details, advice on buying, maintaining and modifying, it's all here, making it an ideal stocking filler for the GTI enthusiast!
"Its handy glovebox size and 64 pages make it the ideal accompaniment when searching for the best car you can afford." – Wheelspin

"These pocket softbacks are well worth the money if you're thinking of a car purchase." –  Octane

"Model variants, common faults, values and how to make an in-depth inspection are all covered in this pocket-sized volume. These clear no-nonense Essential Buyer's Guides are well worth the money if you're seriously considering a car." – Classic Cars

"... crammed with advice from two experienced owners." – Classic & Sports Car
 
or
Not Currently Available for Direct Purchase