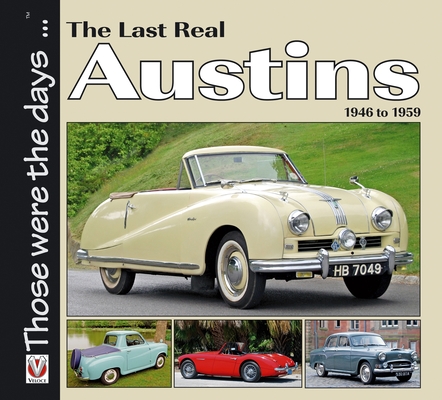 The Last Real Austins (Paperback)
1946 TO 1959 (Those were the days...)
Veloce Publishing, 9781845841935, 96pp.
Publication Date: July 1, 2009
* Individual store prices may vary.
Description
This book chronicles how Austin overcame the tough austerity period immediately after WWII and went on to design a comprehensive range of cars, sports cars, limousines, taxicabs, off-roaders, military vehicles, vans and trucks that has never been equaled by one single manufacturer. In the immediate post-war years its modern and innovative range of cars, trucks and vans were forced to take on world markets as a result of the British Government's "Export or die" mandate to help pay off massive war debts. At its peak, Austin was required to export 75% of production, resulting in long waiting lists for new vehicles on the home market. As a result, many of its impressive range of modern vehicles were to find customers in the four corners of the world, helping to establish Austin as one of the world's best known auto makers at the time. This book chronicles each model and focuses on how and where it was used and received, and is illustrated with rare archive material and stunning new color photography which will be appreciated by enthusiasts and restorers alike.
About the Author
Colin Peck started his career in road transport in the mid-1960s and held a number of management positions in such companies as Thorn Electrical and Pickfords Heavy Haulage. His experience at such companies led him to a successful career in road transport journalism, writing for trucking magazines from Australia to America, Canada to South Africa. During the 1980s he was European Editor of the leading US-based trucking magazines, Heavy Duty Trucking and Transportation Engineer. He subsequently entered the public relations industry, and has handled the UK PR strategies for such organizations as BRS and Ryder.
Praise For The Last Real Austins: 1946 TO 1959 (Those were the days...)…
"All models from small cars, military vehicles, sports cars and luxury variants are explored in a pleasingly easy-to-read format." – Practical Classics "Veloce's nostalgic Those Were The Days series are astonishingly good value. There are some fabulous period photos and advertisements, too. Enjoy." – Gay Classic Car Group "The book has obviously taken a huge amount of research to compile. The archive material is well chosen and adds enormously to the story; the modern colour photography is superb ..." – Champ World
"The author crams a lot of information into a small space, making for a fascinating book." – Classics Monthly "... first-class pictures of preserved cars and some very rare archive photographs." – Vintage Taxi
"You'll find a wealth of pictures – often, as in this case, containing some real archive gems. Covering cars, commercials and 4x4s, it's a lively overview of pre-BMC Austins." – Octane "A superb book detailing those iconic vehicles from the the late 1940s to 1959." – Tilley Register "Beautifully illustrated with rare archive photography, each page bursts with informed descriptions of the small family cars, luxury limousines, taxicabs, commercials and military vehicles to wear the Austin badge. " – Hertfordshire Countryside "An easily read, well written and comprehensively illustrated book about the last real Austins." – A40 Club
"An enjoyable and well-illustrated short journey through a key period of Austin history." – British Car Club of New Zealand
or
Not Currently Available for Direct Purchase