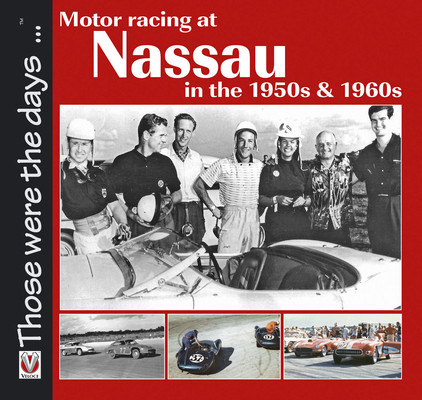 Motor Racing at Nassau in the 1950s & 1960s (Those were the days...) (Paperback)
Veloce Publishing, 9781845841980, 96pp.
Publication Date: November 15, 2008
* Individual store prices may vary.
Description
Motor Racing at Nassau focuses on the vision of one man, Captain Sherman 'Red' Crise, and his quest to bring motor racing to the Bahamas. From its stuttering start in 1954, his event rapidly developed in stature to become the most important and prestigious sports car event on the race calendar other than World Championship events. The races started in the mid-1950s and continued for thirteen years, and are described by many commentators as the 'Golden Age' of motor racing, where internationally acclaimed drivers attended Nassau to mix with the many amateur racers from America and enjoy the sun, parties and racing. For many drivers, the social scene was as important as the racing, and in later years prize money was an extra incentive to turn up – in 1960, it was claimed to be the highest paying event on the race calendar. Words alone cannot begin to describe the atmosphere generated at the races, so the wealth of previously unpublished photographs together with a complete collection of program covers, and other material accumulated during six years of research, bring real vibrancy to these fascinating race accounts.
About the Author
Terry O'Neil is an active member of the Ferrari Owners Club of Great Britain, and holds the role of Archivist for the Club. He has written two books about the Bahamas Speed Weeks, and has a book about sports car racing in Northeast America during the 1950s scheduled for publication. He has written numerous articles for the Ferrari magazine, and has contributed articles to Cavallino, Healey Marque and Vintage Racecar Journal.
Praise For Motor Racing at Nassau in the 1950s & 1960s (Those were the days...)…
"Terry O'Neil's authoritative history, packed with many previously unpublished pictures, captures a bygone ages when partying was an essential part of motorsport and a Caribbean island was a great location for both activities." – The Marshal

"Whether it's an incredibly youthful Ricardo Rodriguez, Jim Hall's wrecked Chaparral, Foyt's Hussein-Dodge, or GM's experimental Stingray SR2, you'll be in for some treats when you leaf through this recommended book." –New Zealand Classic Car


"This little 96-page book will show you the variety of characters and machines involved ... It captures something of the relaxed ad hoc atmosphere, too." –Classic Cars
Classic & Sports Car, January 2009
UK magazine
 
Latest in Veloce's 'Those were the days' paperback series covers the glamorous Nassau events in the '50s and '60s. If you have Terry O'Neil's earlier book ['The Bahamas Speed Weeks'], parts of this one will be familiar but there are some great photos, particularly of the Rodriguez clan.


Octane, January 2009
UK magazine
 
Racing picture books don't have to be doorstop-sized tomes with commensurately big prices: Veloce's little softback is packed with images, including some great color shots, that outweigh its modest cost. Glamorous women, interesting cars – Nassau had it all, and it's all here.
or
Not Currently Available for Direct Purchase