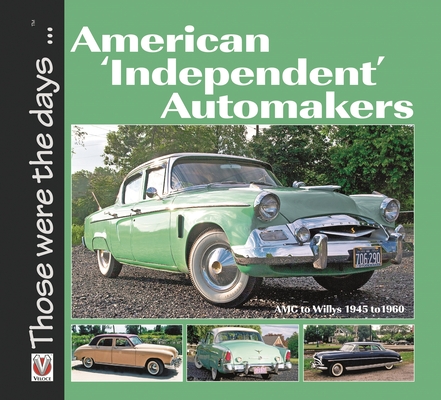 American 'Independent' Automakers (Paperback)
AMC to Willys 1945 to 1960 (Those were the days...)
Veloce Publishing, 9781845842390, 96pp.
Publication Date: September 15, 2010
* Individual store prices may vary.
Description
The independent automakers who had survived the depression of the 1930s had flexibility and enough capital from the war to be the first to launch all-new models for a car starved nation. So lucrative was the American post-war car market that new automobile companies were also formed to cash in on the pent-up demand for new cars. This is their story told through text and the use of contemporary brochures, period literature, factory photos, road test info and over 90 new, unpublished color photos of restored examples to relate the importance of these historic vehicles.
About the Author
Norm Mort began taking pictures of old vehicles parked at the side of the road before he was ten. At 12 years of age, Norm was the youngest member on the executive of the Antique and Classic Car Club of Canada, Toronto Chapter. In the 1960s he began accumulating photos and information on motoring. His personal vehicle collection has included everything from a 1922 D-Type Vauxhall and 1935 Morgan F2 to a 1966 Autobianchi van and 1962 Studebaker Station Wagon. A writer for magazines and newspapers such as World of Wheels, Sports Car Market, the Toronto Sun, Montreal Gazette, Old Autos, and numerous others in the field of transport for over 30-years, he has written more than 15 historic vehicle books in the Veloce series Those were the days ....
Praise For American 'Independent' Automakers: AMC to Willys 1945 to 1960 (Those were the days...)…
"The text gives a good overview of model development and prevailing design trends, but what really catches your eyes are the book's many period ads. Entertaining and informative, whatever classics you're into." – Classic Cars
"The snappy period press quotes and plethora of photos are fascinating." – Classic Cars
"The entire book makes an entertaining and educational read for anybody even vaguely interested in the subject." – Jaguar Magazine, Australia
"The presentation of the wealth of material in the book is extremely well done. The layout is logical, taking each year covered and then treating the reaches chronologically. This book is a must for your library. Congratulations to the author for his fine research and attention to detail." – The Sacred Octagon, New England MG-T Register
"Any car buff interested in autos made from 1945 to 1960 MUST have this review of the old-timers, which includes model history and complete ranges. Unique, rare models, production data, and issue dates accompany over a hundred color photos, original ads and brochure images to make for an outstanding story told through text and auto maker advertising." – Bookwatch
"Packed with factory photos and ads from the author's own collection. This is a worthwhile book even for those with a knowledge of American indies." –
Autonet.ca
"Packed with little-known facts, detailed captions and supportive text that combines with brochures, period literature, factory photos and almost 100 examples of previously unseen colour photos and restorations, this is both an enjoyable and informative read." – Classic Car Buyer
"With a super selection of original brochures, 90+ photos of restored cars, enough text to be informative and interesting, and a final section on some great sporty-looking, limited run, vehicles from Cunningham, Edwards and Flajole, this makes a good value look at some interesting model developments." – Classic Driver, New Zealand
"If you bookshelf is small but your interest expansive, you'll find this book a treat." – Hemmings Classic Car
or
Not Currently Available for Direct Purchase