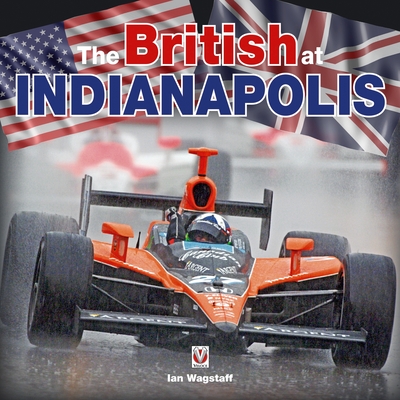 The British at Indianapolis (Hardcover)
Veloce Publishing, 9781845842468, 256pp.
Publication Date: December 15, 2010
* Individual store prices may vary.
Description
The British at Indianapolis recounts the history of the Indianapolis 500 race through the eyes and actions of those British born or British citizens who have driven in it, or been involved in any other way – be it as a designer, mechanic, or official. It also examines the British built cars that have won the Indy 500 and the significance of the rear engined revolution brought to the Indianapolis Motor Speedway by Cooper in 1961, and elevated to success by Lotus and Lola. It includes such names as Jim Clark, Graham Hill, Nigel Mansell and 2010 Indy 500 champion, and two times winner, Dario Franchitti.
About the Author
Freelance journalist Ian Wagstaff won the Mercedes Benz Montagu of Beaulieu Trophy for his book, The British at Le Mans. He wrote for Autosport and Motoring News before becoming press and promotions manager at Silverstone in the late 1970s. His current work for Racecar Engineering, Race Engine Technology, Performance Racing Industry, The Paddock, The Red Bulletin and Auto Technology takes him to races throughout Europe and the USA, including the Indianapolis 500.
Dario Franchitti is the 17th driver to win Indy 500 more than once, the first coming in 2007. Dario hails from Bathgate, West Lothian, Scotland, but currently resides in Tennessee.
Praise For The British at Indianapolis…
"This is the most complete rendition of the history of the British influence on Indianapolis. As you enjoy the many magazines, newspapers, videos, and books that will be devoted to the 100 years of Indianapolis 500 history, don't forget about 'The British at Indianapolis' to round out that history, a very important and significant piece of Indy history." – autoracinghistory.com
"Two words in the title of this book mean that, if you have any interest in either, you should acquire it." – Vintage Racecar
"Wagstaff does a fine job and laces the story with plenty of quotes from drivers and engineers. Highly recommended." – Classic & Sports Car
"Packed with interviews, recollections, rare pics and vital reference material, the 'British at Indianapolis' is a fitting tribute to the Brits – on and off track – who have contributed to Indy history." – Autosport
"Wagstaff's absorbing book will certainly set you right about the involvement of British drivers, teams and designers in America's most famous race, the Indy 500. It's 240 pages are well written, carefully researched and illustrated with an apt and engaging collection of pictures from all eras. Anecdotes, quotes and character studies abound. Excellent." – Classic Cars
"Wagstaff's excellent new book is a reminder that the Brits and Indy have had close relationships over many years. A lot of background work and research must have gone into this book, which is also very well illustrated." – Classic Driver (Australia)
"BOOK OF THE MONTH. Wagstaff clearly knows his stuff." – Octane
"With the text punctuated by informative sidebars, the drivers, the cars, the technicalities and a host of behind-the-scenes details are covered in Ian Wagstaff's profusely illustrated and superbly constructed account of the world's most famous motor race from the British perspective." – Speedscene
"From London-born Hughie Hughes in 1911 to Franchitti in 2010 and yes, even Lewis Hamilton's win in F1, Wagstaff misses nothing – many happy laps for anyone interested in the history of this wonderful racetrack, an ultimate tribute to the greatness the British brought to it." – Vintage Motorsport
or
Not Currently Available for Direct Purchase