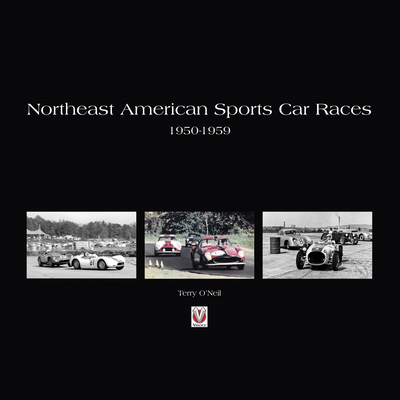 Northeast American Sports Car Races 1950-1959 (Hardcover)
Veloce Publishing, 9781845842543, 432pp.
Publication Date: October 15, 2010
* Individual store prices may vary.
Description
This book focuses on the different aspects that contributed to the development of Northeast American sports car racing during the 1950s. The evolution from amateur drivers racing on public roads in 1950, to both professional and amateur drivers racing at private, purpose-built tracks in 1959, demanded huge leaps of faith, trust and understanding. The transition was neither easy nor uneventful for drivers, clubs or track owners, and the tragedy, politics and intrigue that came to characterize the period are covered here in fascinating detail.
About the Author
Terry O'Neil is an active member of the Ferrari Owners Club of Great Britain, and holds the role of Archivist for the Club. He has written two books about the Bahamas Speed Weeks, and has a book about sports car racing in Northeast America during the 1950s scheduled for publication. He has written numerous articles for the Ferrari magazine, and has contributed articles to Cavallino, Healey Marque and Vintage Racecar Journal.
Praise For Northeast American Sports Car Races 1950-1959…
"Californian motor sport history is extensively covered in print but the East Coast scene (with the exception of Joel Finn's masterful histories) get's short-changed. This thumping 432-page book changes that … the amount of information and amazing pictures help justify the hefty outlay." – Classic & Sports Car
"Race results, where they survive, are fully detailed and there are loads of rare and fascinating pictures. It's a solid piece of work, both in the literary sense and – at 430 pages – the physical one." – Octane
"The book has hundreds and hundreds of photos to illustrate the full race reporting. All power to the author and the publisher for going ahead with a nicely-produced book on a racing era that deserves to be covered well." – Classic Driver
"This is a massive volume filled with racing statistics, photos and text gleaned from a variety of sources including old racing programs, newspaper articles, and various club newsletters of the period, 1950-1959. An amazing historical chronicle of the first real decade of sports car racing in North America." – North American Classic MG
"For anyone with an abiding interest in the foundations of road racing in America, this book is an invaluable resource." – Vintage Racecar
"The level of research and commitment needed to produce this book is simply staggering. If the cars, races or personalities of this era are of interest then this is a valuable work and should find space in any serious motoring library." – VSCC Bulletin & Bugantics
"Given the difficulties – copyrights, hoarding collectors, much material simply thrown away by uncaring relatives, and the cost of photo use from many collections, it makes the 475 photos – 104 in color a real treasure. Many have never been published and are seen here for the first time." – Velocetoday.com
or
Not Currently Available for Direct Purchase