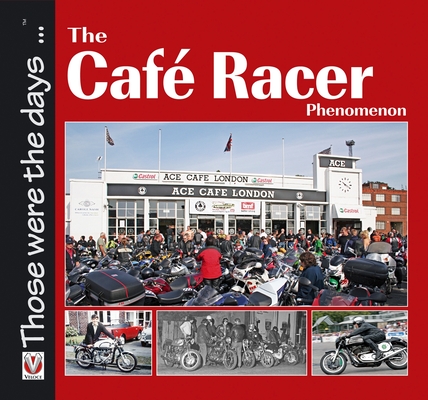 The Cafe Racer Phenomenon (Those were the days...) (Paperback)
Veloce Publishing, 9781845842642, 96pp.
Publication Date: December 15, 2009
* Individual store prices may vary.
Description
The Cafe Racer is one of the most enduring styles of motorcycle ever created, capturing the rebellious spirit of the 50s. From original Triton-building Rockers to modern-day Sunday riders on Thruxton 900s, there are thousands of enthusiasts across the world who aspire to own a road burner with old school class.  This is a look back at the glory days of the Cafe Racer, from Friday night dices on the North Circular, through the street specials craze of the Seventies, to the modern day revival.   This book includes interviews with some of the old school regulars at the Ace Cafe, and an in-depth look at the great British bike builders like Norman Hyde, Steve and Lester Harris, the Rickman brothers and Paul Dunstal, Featuring a huge, global Cafe Racer directory – listing specialist builders, spares suppliers, websites etc – alongside a unique mix of personal memories, unseen photos, iconic machines and chassis builders in profile, this book is a must for any ton-up rider.
About the Author
Alastair Walker has been a Kawasaki triples fan since his teens, and has owned both the KH250 and KH400 models, the 400 being the only motorcycle he has bought brand-new in over 30 years on bikes.  A freelance motorcycle journalist since the 1980s Alastair has edited magazines such as Biker and insidebikes.com in the UK, and contributed over 1500 features to various magazines across the world, including Motor Cycle News, Classic Bike Guide, Motorcycle Mechanics, Moto 73 and Cycle World. He also has a weekly column in the Manchester Evening News, and has seen work published in Sports Car Market and Classic Car Weekly.
Praise For The Cafe Racer Phenomenon (Those were the days...)…
"If you're a biker of the '60s. cafe racer or not, you'll lap this book up. With plenty of photos and anecdotes galore, if you're simply interested in what makes motorcycling special, you'll like it too!" – Motorcycle Rider
"Photographs there are in plenty, the b/w pics of the sixties are to me especially interesting …" – Nacelle
For anyone who lived through the motorcycle culture of the '50s, '60s, and '70s, or even those who didn't, the book is packed with info and images related to cafe racers and the Rockers who loved them. With a stack of black & white photos liberally scattered through its 96 pages, the tome traces the origin of the cafe racer and the rebellious spirit that went with it, going on to detail the uptake of the style by manufacturers themselves." – Motorcycle Trader
"A welcome book on the café racer scene ... a quick, but enjoyable look at some 'fab' bikes and good times." – Bike Rider

"If you were there at the time it is a must-have addition to the library, and if you were not, it may make you wish you were!" – inter-bike.co.uk
or
Not Currently Available for Direct Purchase