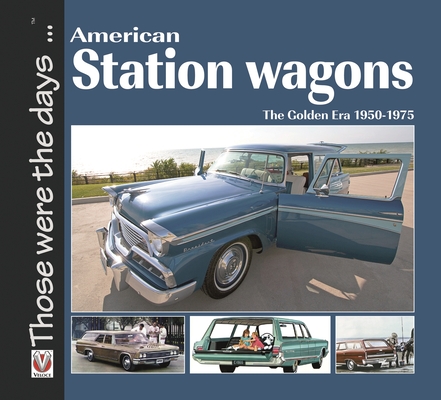 American Station Wagons
The Golden Era 1950-1975 (Those were the days...)
Paperback

* Individual store prices may vary.
Description
American Station Wagons The Golden Era 1950-1975 examines the important quarter century period when the American station wagon was a family standard and status symbol of a successful suburban lifestyle. With 100 images backed by detailed captions and supportive text, this book describes the multitude of makes and models, as well as recounting the essential role of the classic American station wagon in North American society in the 1950s, 1960s and 1970s. Contemporary brochures, period literature, factory photos and over fifty new, unpublished color photos of restored examples help convey the importance of these historic vehicles. Also featured are images of rarer Canadian versions from American manufacturers.
Praise For American Station Wagons: The Golden Era 1950-1975 (Those were the days...)…
"If you're thinking about buying an American estate then this book is a good place to begin your research. Good fun." – Classic & Sports Car
"Its 96 colorful pages are packed with photos – some of them taken especially for the book – and vintage ads from the author's own collection." – blogs.canoe.ca
"Welcome to the pre-downsizing world of some seriously big motor cars, all packed into a concise volume of just under 100 pages." – Classic Cars
"Great ads and brochure reprints made us want a '587 Packard Clipper wagon – 'A new ages of functional elegance arrives!' – and it's fascinating to see the change in ad styles over the decades. Inexpensive too." – Octane
"These quirky little softbacks are something of a pocket-sized breath of fresh air." – American Car"With some potted history of each decade's developments and lengthy detailed captions, this is a treasure trove of mostly contemporary photos of wagons and woodies, plus reproductions of some wonderful brochure material. There's a lot to enjoy." – NZ Classic Car

Veloce Publishing, 9781845842680, 96pp.
Publication Date: December 15, 2010
About the Author
Before he was ten, Norm Mort began taking pictures of old vehicles parked at the side of the road. At twelve years of age Norm was the youngest member on the executive of the Antique and Classic Car Club of Canada, Toronto Chapter. In the 1960s he began accumulating photos and information on motoring. His personal vehicle collection has included everything from a 1922 D-Type Vauxhall and 1935 Morgan F2 to a 1966 Bianchina van and 1962 Studebaker Station Wagon. An international writer for magazines and newspapers in the field of transport for 25 years, he has written more than a dozen books about historic vehicles, often collaborating with his son, photographer Andrew Mort.
or
Not Currently Available for Direct Purchase