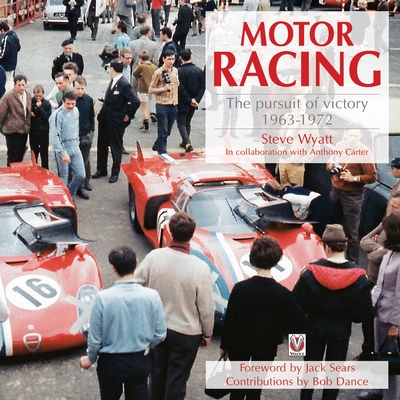 Motor Racing (Hardcover)
The Pursuit of Victory 1963-1972
Veloce Publishing, 9781845842857, 272pp.
Publication Date: January 1, 2013
* Individual store prices may vary.
Description
This is a photographic journey covering a period of ten years in motor sport. Moving year by year, this book is written from the perspective of a passionate motor sport enthusiast of the day. Exciting, dramatic, sometimes tragic events are described on the spot, as seen over the driver or mechanic's shoulder.  These are the events that often made headline news the following day, complemented by stunning, previously unpublished photographs.
About the Author
As a schoolboy SteveÃ?s passion for motor racing was fired by watching early television broadcasts and studying racing coverage in his fathers motoring journals. Employment allowed Steve to start visiting Brands Hatch which could be reached from home in Essex by bus, train, ferry, another bus, and a mile and a half walk! Car ownership opened up an ever expanding range of circuits and events to be visited always armed with his camera. It was a natural step for Steve to become a track marshal eventually going on to compete in a Ginetta G4 sports car followed by several seasons in 750 Formula sports-racing cars. Steve is a founder member of the Fressingfield Oily Rag Club (FORC), and regularly competes in classic saloon car racing in an Alfa Romeo.
Anthony Carter trawled the paddocks of motor racing circuits at home and abroad during what many consider the golden age: the 1950s, '60s and '70s. Many of his own photographs appear in Motor Racing – Reflections of a Lost Era, his first book published by Veloce. Both cars and personalities came under the close scrutiny of Anthony's lens at long abandoned but fondly remembered venues. The old Nürburgring, Reims and Rouen vie with today's circuits such as Le Mans, Silverstone and Brands Hatch. Anthony had to fit in his motor racing experiences around a career in the insurance world, based in London. Maybe it contributed to a freshness of approach. Anthony unashamedly admired his heroes – many sadly no longer with us. Retirement living in East Anglia gave Anthony the opportunity to chronicle his experiences, and his second book, Motor Racing: The Pursuit of Victory (1930-1962), was also published with Veloce, and features many of Anthony's original photographs.
The author began writing about motor racing, Grand Prix racing in particular, after he retired from a career in the insurance industry in London. He has followed the sport since childhood and took many photographs as a young man which were published by Veloce in 2005, revised and reprinted in 2007 - 'Motor Racing. Reflections of a Lost Era'. Contributions to other works followed. The author built up an intimate knowledge of the sport and it's personalities at a time when it was open to the enthusiast. Access to the paddock was always possible and the author has since been privileged to draw upon the experiences of numerous personalities he came to recognize all those years ago. That knowledge has been put to good use in these pages.
Praise For Motor Racing: The Pursuit of Victory 1963-1972…
"I gazed for hours at this book and keep returning to it. Very entertaining and a great snapshot of history." - Totalkitcar
"The type of sought after photographs any restorer or enthusiast loves, close up detailed shots ... Highly recommended" - Historic Lotus Register
or
Not Currently Available for Direct Purchase