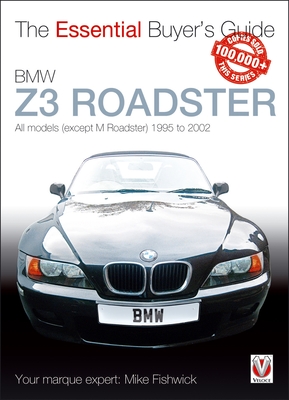 BMW Z3 Roadster (Paperback)
All models (except M Roadster) 1995 to 2002 (The Essential Buyer's Guide)
Veloce Publishing, 9781845842901, 64pp.
Publication Date: May 15, 2017
* Individual store prices may vary.
Description
Designed in Bavaria, styled in California, and built in South Carolina, the BMW Z3 has caused generations of motoring writers to dismiss it as a toy sports car, fit only for 'Estate agents, hairdressers and footballers wives,' but is it really so bad?
 
BMW Z3 Roadster releases one of the best-kept secrets of the sports car world, the Z3 being the latest generation of the traditional small sports car, combined with the advantages of being based on a tried and tested model range produced by a manufacturer of high quality cars with enviable service and spares support.

As the Z3 becomes a modern classic, potential buyers have little information to help them sort out the best cars from the others, most Z3 books being a combination of history and data. This guide shows what to expect and what to look for, written against a background of prolonged ownership and Z3 knowledge.

Containing a wealth of Z3 information, combined with practical inspection and driving evaluation hints, this book will help potential buyers through the process of finding the car they want, whether it is to be a summer runner or a car to keep and cherish.
About the Author
Mike served his apprenticeship at HM Dockyard, Devonport, before a career as a marine engineer.  His interests were mainly centred around BMW motorcycles, and he still owns the first 1000cc flat twin he bought in 1981.  After early retirement, he rebuilt his VW Golf GTI before buying a two-year-old 2.8 litre BMW Z3 in 2000, which he still owns and enjoys driving it all over Europe. He remains active in the BMW car and motorcycle clubs, being a regular contributor to the magazines and websites of both clubs. Mike now lives in southern France.