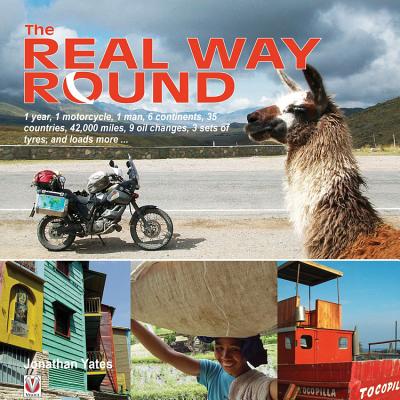 The Real Way Round (Hardcover)
A 1 year, 1 motorcycle, 1 man, 6 continents, 35 countries, 42,000 miles, 9 oil changes, 3 sets of tyres
Veloce Publishing, 9781845842949, 224pp.
Publication Date: August 1, 2013
* Individual store prices may vary.
Description
This book captures one man's real of experience motorcycling around the globe – no back up teams, no spare bikes, no film crews. 42,000 miles through 35 countries, seeing amazing things, meeting fascinating people, experiencing different cultures and coping with extremely challenging conditions.
Real Way Round is not only proof anyone can do it, but also a guide as to how to do it. It is not a technical guide, but rather a broad-brush approach covering some of the key tasks needed to plan and complete a similar trip yourself. With dozens of inspirational photos of stunning scenery and intense experiences, plus an informal, straightforward commentary, this is an eye-opening and practical account of biking around the world.
About the Author
Jonathan Yates has always been a keen traveller, backpacking Australia and Asia immediately after graduating from university. His father's motorcycling exploits on a BSA Bantam back in the '60s left a lasting impression, encouraging him to finally pass his bike test in 1999.The combination of wanderlust and a motorcycle licence proved a great temptation. Jonathan soon part-exchanged his Yamaha Fazer for a Tenere XT660, and the trip was on. He left the UK on the Eurostar, riding east to Beijing before continuing through South East Asia, Australia and the Americas during a one-year sabbatical. Real Way Round details how to organise such a trip, and features a series of daily photographs capturing Jonathan's own experiences on his amazing journey.
Praise For The Real Way Round: A 1 year, 1 motorcycle, 1 man, 6 continents, 35 countries, 42,000 miles, 9 oil changes, 3 sets of tyres…
"Libraries are full of reflective, overthought travelogues. If you prefer yours presented with all the cheer of a tall tale told in a pub and put together with the artistic élan of a family Christmas newsletter, you will strike gold with "The Real Way Round" ... Yates' best gift to the reader is how easy he makes it all sound ...
For us repressed bikers among the world's deskbound multitudes, it's a hard argument to resist." - The New York Times
"I met Jonathan in the midst of his trip around the world on a Tenere, the pair of us colliding somewhere in the middle of Kazakhstan. Four years later his book arrives in the office and what a professionally put together hard-back artefact of his trip it is ... this isn't a fictionalised narrative as some books of this genre tend to be, it's a straight-forward, 'this is my trip, these are my pictures, this is what happened,' kind of book, and it's all the better for it." - Adventure Bike Rider Magazine
"THIS ENTERTAINING effort is the latest in a recent flood of books about motorcyclists on epic jaunts. It's also one of the best ... Yates' thoughts on the 35 countries he visited are illuminating ... What you take away from reading this is the sense that just about anyone could follow his lead." - Octane
"In this quality hardback Yates explains what to do first, what to plan for, and how to cope with the unexpected. He gives details of bike modifications, route maps, points of interest, and practical guidance on freighting your bike in broad terms because this is not intended as manual for adventure motorcycle travel, there are plenty of those already on the bookshelf ... In fact what he has managed to do is create a book with seven hundred inspirational images that tell the story so that even non-motorcyclists will pick it up and enjoy the experience. He has even managed not to get too technical or go too deep on the actual riding so as to keep every reader on side from start to finish ... it is pitched at anybody who loves travel. In fact it could be said that it is a travel book with some motorcycling thrown in for good measure and that is what makes it stand out - universal appeal!" - Inter-bike.co.uk
"LIBRARIES ARE FULL of reflective, overthought travelogues. If you prefer yours presented with all the cheer of a tall tale told in a pub and put together with the artistic élan of a family Christmas newsletter, you will strike gold with "The Real Way Round."...Covering every continent but Africa, Mr.Yates's running commentary is sprinkled with helpful and up-to-date advice for anyone hoping to replicate his trip. The preface of his book is a useful to-do list, including suggestions on banking while traveling, customs documentation, visas and downloading the bike's full manual. Mr. Yates's best gift to the reader is how easy he makes it all sound — just take a sabbatical, rent out your house, do some paperwork and hit the road. For us repressed bikers among the world's deskbound multitudes, it's a hard argument to resist." - The New York Times
or
Not Currently Available for Direct Purchase