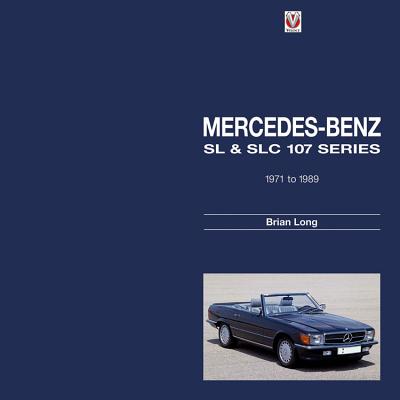 Mercedes-Benz SL & SLC 107 Series (Hardcover)
1971 to 1989
Veloce Publishing, 9781845842994, 208pp.
Publication Date: December 15, 2010
Other Editions of This Title:
Hardcover (10/17/2017)
* Individual store prices may vary.
Description
It's hard to believe, but the W113-series Mercedes-Benz SL was launched almost 50 years ago. However, its timeless styling has kept it fresh and attractive in the eyes of a new generation of enthusiasts, as well as those returning to the car having owned one when they were still in dealerships. A combination of superb original design, peerless engineering and build quality simply adds to the desirability of this series of classic German machines, and has ensured that many of these cars can still be seen in regular use today. Covering the SL's ever-changing specification, competition record, and its presence in many of the world's major markets is a huge task, but it's all presented here in definitive detail, along with stunning contemporary photography, in a volume that will readily grace any reference library shelf or connoisseur's coffee table. An earlier book, also published by Veloce, and covering the 107-series SL and SLC, acts as a perfect companion to this title, taking the SL story up to 1989.
About the Author
Born in Coventry, once the heart of the British motor industry, Brian Long has a passion for vintage and sporting machinery. A trained mechanical engineer and a long-term owner of both the MX-5 and rotary Mazdas, he has had a strong connection with Mazda products for well over a decade. Brian now lives just outside Tokyo, and spends much of his free time with Thoroughbred horses. He has had more than 70 books published, including many works on Japanese marques.
Praise For Mercedes-Benz SL & SLC 107 Series: 1971 to 1989…
"Give an experienced author such as Brian Long a subject he is passionate about – he's owned an SL and SLC – and you can expect a treat. And that's what we have here: a no-stone unturned look at these increasingly sought-after sporting Mercs. There are packed appendices for completists, too." – Classic & Sports Car
"Buy this excellent hardback 208-page history by an established author and wonder why on earth we British persisted so long with our own anachronistic, unreliable and spartan sports cars." – Gay Classic Car Group
or
Not Currently Available for Direct Purchase