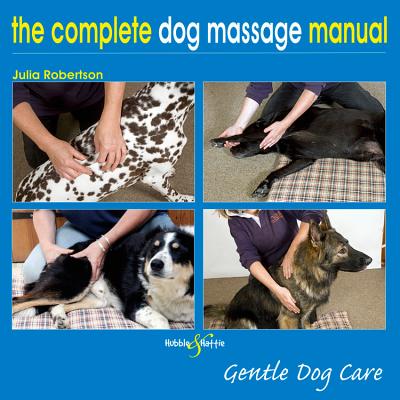 The Complete Dog Massage Manual (Hardcover)
Gentle Dog Care
Hubble & Hattie, 9781845843229, 128pp.
Publication Date: December 15, 2010
* Individual store prices may vary.
Description
Massage has a fascinating history dating back 4000 years, and evidence of the beneficial effects of massage on animals is not difficult to find; we need only look at animals to understand the importance they place on the use of massage through mutual (allogrooming), or self-grooming. Among dogs, an individual suffering from a sore, or some other form of injury, will often have the affected area roughly licked by another pack member. This action, which resembles rubbing, is, in effect, a form of muscle massage. The techniques explained and demonstrated in this valuable book – which incorporate a 'trouble shooting' guide for problems when working on your dog – should assist you in improving your dog's health, and help you gain a greater awareness of his or her overall condition. Other techniques are also used by fully trained and qualified canine myotherapists or massage therapist practitioners, but the techniques included here are safe to use without such specialist knowledge. Also included is information about how the dog 'works' in relation to what effects massage has; plus the clear, specially-commissioned photos and technique descriptions explain how you can be so much more in touch with the health of your canine companion, as well as establish a bond of trust and communication between you.  Includes:  How the dog works • Using your vet • How massage works • How to massage your dog • Massage techniques • Massage exercise and muscular health • Managing muscle repair, incorporating massage • Other techniques • Glossary
About the Author
Julia Robertson established the Galen Therapy Centre in 2002 specializing in Canine Myotherapy (Massage); running a busy consultancy treating working, performance and companion dogs; she has developed a range of courses from workshops to accredited diploma courses in Canine Massage. She is a passionate advocate of Canine Myotherapy working closely with vets and other professionals. She has developed a team of Galen Myotherapists practicing throughout the UK having completed the Galen Diploma. Julia has co-authored another book intended for Veterinary practitioners and students. She is also a regular contributor to Dog magazines also talks at Seminars and runs training courses all of the UK.
Praise For The Complete Dog Massage Manual: Gentle Dog Care…
"Clear photos and technique descriptions to help you massage your dog safely and effectively." – Pet Mag NZ
or
Not Currently Available for Direct Purchase