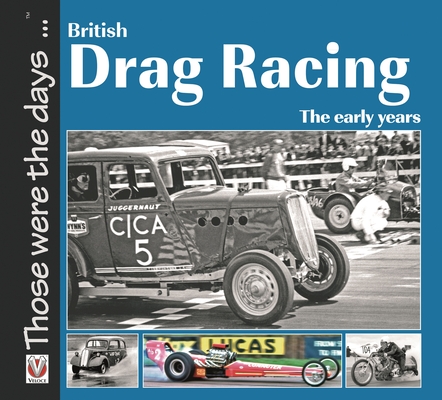 British Drag Racing (Paperback)
The Early Years (Those were the days...)
Veloce Publishing, 9781845843373, 96pp.
Publication Date: May 1, 2011
* Individual store prices may vary.
Description
A detailed look at the first ten years of drag racing in Britain from 1960-1969, complemented by 100 color pictures. It includes the visits by American dragsters, and the running of drag races on RAF airstrips by a growing band of enthusiasts with home-built machines. 1966 saw the opening of Santa Pod Raceway, Britain's first permanent drag strip; this book takes a look at the first four seasons racing there, and the development of the facility as entries and performances increased.
About the Author
Nick Pettitt is a recognized expert on British drag racing history. He has produced over 70 DVDs on the subject, using cine film and video footage combined with his own researched narration. From 1995-2000 he raced a Chevy-powered nostalgia slingshot dragster at various drag strips in the UK, and currently drives a Ford Popular hot rod on the street. Nick has written two articles on British drag racing history for Custom Car magazine. In 2008 he was asked to join the British Drag Racing Hall of Fame, both as a board member and as their historian, and has been writing the profiles for the new inductees.
Praise For British Drag Racing: The Early Years (Those were the days...)…
"A fascinating nostalgic study of one of the fastest, loudest, most powerful motor sports in the world." - Restored Cars
"Nick's book is excellent and a must-read for anyone interested in the history of the sport. The quality of the reproduction of the pictures is outstanding: some are of sufficient clarity and colour to appear to be 3D which is doubly impressive given their age." – eurodragster.com "This is great stuff. The text is well-researched but it's the pics that count ?? with a wealth of images from the original Drag Fests to early meetings at Santa Pod." – Octane "Nobody can fail to be impressed by the photos. Pettitt has compiled the most amazing, amusing, evocative and downright period-perfect collection of photographs yet assembled. It's a beautiful time capsule for an era we'll not see the likes of again. For any true drag racing fan, this little softback is quite possibly the best $30 you'll spend this year." – American Car "A detailed look at the first ten years of drag racing in Britain from 1960-1969, complemented by 100 dramatic colour pictures. A fascinating, nostalgic study of one of the fastest, loudest, most powerful motor sports in the world." – Startline
or
Not Currently Available for Direct Purchase