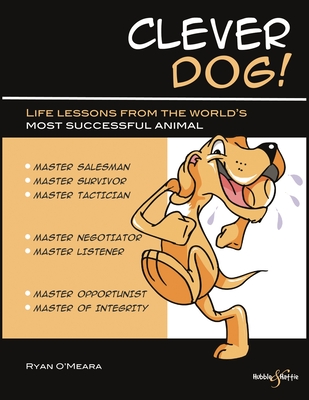 Clever Dog (Paperback)
Life Lessons From the World's Most Successful Animal
Hubble & Hattie, 9781845843458, 128pp.
Publication Date: June 15, 2011
* Individual store prices may vary.
Description
The dog is undeniably the most successful domestic animal of all time. He shares his life with ours, has integrated into our society, and won the hearts and minds of millions of us. We call ourselves dog lovers because we do sincerely love them: they are fully-fledged members of our family, and we have elevated them to positions of authority in the human world. Assistance dogs, protection dogs, detection dogs, companion dogs ... they all enhance our lives immeasurably. In this book we will examine a whole raft of canine skills and talents, and try to piece together how and why the dog has enjoyed such immense success as a domesticated animal. We will look at the dog as a problem solver, conflict resolver, and health asset and as a decision maker and hero. Also, he is a loyal and trusted friend. Clever Dog! is a compendium of life lessons we can learn from our dogs, based on a combination of what we know about them and – indeed – what we think we might know about them. He's earned his epithet 'Man's best friend:' in this book, our aim is to examine how he did it and how we might emulate his talents in order to enjoy the same fortune and fulfillment in our lives. Be happy and successful: learn from the best!
About the Author
Ryan O?Meara is the publisher of K9 Magazine, a popular lifestyle magazine for dog lovers. A former professional dog trainer, Ryan has worked with more than 2,000 dogs. He is the UK?s ambassador for World Animal Day, and founder of an online dog adoption service.
Praise For Clever Dog: Life Lessons From the World's Most Successful Animal…
"While man's best friend may not see anything wrong in chewing up the mail, its ability to recognise when we are angry and quickly diffuse the situation far outstrips our own ability to resolve disputes, it is claimed. And while many human leaders assert their authority by being confrontational and argumentative, the top dog in a pack is invariably the most patient and least aggressive. The claims are made in Clever Dog: Life Lessons From Man's Best Friend, described by author Ryan O'Meara as an "unusual self help book". Mr O'Meara, a dog trainer and publisher of K9 magazine, said: "The dog in many respects is able to deceive its owners into making them believe what they want to believe, in order to avoid any trouble." - The Telegraph (UK)
"This reviewer found this book very interesting and really enjoyed philosophical angle suggesting that rather than just being agreeable, biddible but essentially submissive companions dogs can teach us something in our attitude to the world and our place in it. " - Pet Owners Association (UK)
or
Not Currently Available for Direct Purchase