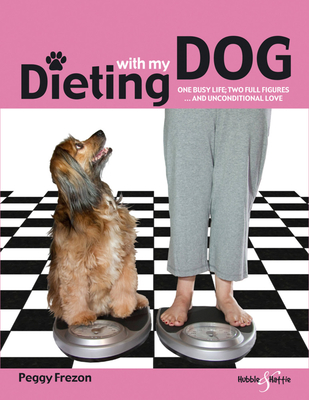 Dieting With My Dog (Paperback)
One Busy Life; Two Full Figures and Unconditional Love
Hubble & Hattie, 9781845844066, 112pp.
Publication Date: October 15, 2011
* Individual store prices may vary.
Description
The veterinarian rubbed Kelly's sides for emphasis. "She needs to lose weight. If not ..." Peggy Frezon recognized the list of serious ailments that followed. It was the same one her own doctor had given her. Dieting with My Dog is the honest and heartfelt story of how one overweight woman and her chubby spaniel struggled to get fit and healthy together. Theirs was a comfortable routine. While Frezon's children were flying the nest, her loyal rescue pup snuggled close. Sneaking M&Ms from her secret stash, she would slip Kelly extra doggy cookies too. Why not? Food is love. But then, Kelly became the motivating factor that led Frezon to face down the physical and emotional reasons for her overeating, and for over-feeding her dog. She learned that embracing change is healthy, and everything is easier with unconditional love. Join Frezon and Kelly on their journey to weight loss with a wag. Dieting with my Dog celebrates our close bonds with our pets in times of both need and triumph. This book is for anyone who has ever loved an animal – through thick and thin. A heart-warming story of one woman and her dog • Inspirational and motivating • A real-life account • A story of family life and love • Heartfelt and humorous look at living with animals • Unconditional love in spades!
About the Author
Peggy Frezon is an award-winning writer specialising in pets, with a web column -- Pawsitively Pets -- and popular blog, Peggy?s Pet Place. Her delightful pet stories appear in such books as The Ultimate Dog Lover, Miracles and Animals, and in more than a dozen Chicken Soup for the Soul books. Peggy is a regular contributor to Guideposts and Angels on Earth magazines, always striving to maintain her weight loss while writing from her home office "just eight easy steps away from the refrigerator."
Praise For Dieting With My Dog: One Busy Life; Two Full Figures and Unconditional Love…
"Peggy Frezon has written a charming and delightful tale. Dieting With My Dog is sweet, funny, inspiring and adorable, just like Peggy and Kelly!" - Julie Klam, bestselling author of You Had Me at Woof: How Dogs Taught Me the Secrets of Happiness"It only took my reading the first page of Peggy Frezon's book, Dieting with My Dog, and I was hooked! As someone who has dealt with the challenges of weight gain and weight loss all of my life, I was inspired by Peggy's heart-warming story of her journey to make a positive change in her life with the help of her beloved dog, Kelly. Peggy blends humor, candor, and practicality in a wonderful way. - Julie Hadden, from NBC's "The Biggest Loser" and author of Fat Chance, Losing the Weight, Gaining My Worth."A quirky and engaging tale of one woman's uncommon solution to a common problem. A moving and instructive celebration of the bond between humans and animals."- Ptolemy Tompkins, author of The Divine Life of Animals, former editor at Guideposts magazine." Your dog cannot tell you he is unhappy or overweight, and he relies on you to keep him healthy. This book is an excellent way to keep the both of you in nice shape; most importantly, by doing it together."- Joel Silverman, author of What Color Is Your Dog, Host of Animal Planet's "Good Dog U.", www.companionsforlife.net"Dieting with My Dog presents delightful incentives to improve health for people and their canine companions. With the book's rare combination of humor, practicality, and inspiration, readers will become motivated to lose weight and gain a special bond with their dog."- Linda Anderson, co-founder of Angel Animals Network, and co-author of Dogs and the Women Who Love Them, co-author of Animal and the Kids Who Love Them."Everyone who has ridden the emotional rollercoaster of weight gain and loss, and struggled with the necessary lifestyle changes, will relate to Peggy's battle and eventual triumph over food's controlling grip. Her faithful dog is both an ally and a benefactor of the author's successful journey."- Dawn Kairns, author of MAGGIE: The dog who changed my life."Dieting With My Dog is the book I've been waiting for. This book will inspire you to get fit and love life as Peggy did?"with heart, soul and a best friend!"- Nina Marinello, PhD, Nutrition Educator, Columnist – "The Healthy Professor" (Albany NY Times Union), Coordinator of Sports Nutrition, Department of Athletics–University at Albany, State University of New York"In Dieting With My Dog, Frezon reveals the struggles inherent in weight loss, but beyond that she tells the story of the bond between a pet and her owner. As Frezon puts it, the story reveals how closely we are bonded to our pets in our trials, and especially in our victories." - Kimberly Porter, Petmd.com
"the perfect book for dog lovers ... What could make a better Christmas gift for the dog lover in your life than a book about the comfort and joy offered by man's best friend?" - dogsinthenews.co.uk
"We think this book would appeal to anyone who has loved a dog ... It is for anyone who has challenging relationship with food - using it for comfort and to stave off boredom, for those who have battled with weight all their lives, or anyone who suddenly finds, after years of not having to think about their body, that they are suddenly piling on the fat. It is also for anyone who is facing that challenging time in their parenthood when their children are beginning to look outwards from the family; a time of accomplishment but also of loss. Perhaps doctors should prescribe a loving dog to all those going through this!" - Pet Owners Association
or
Not Currently Available for Direct Purchase