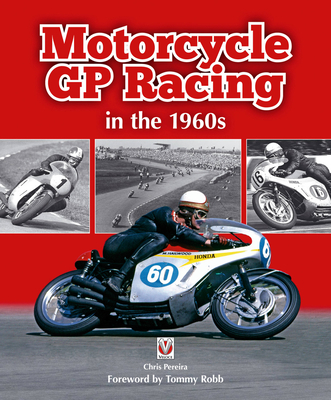 Motorcycle GP Racing in the 1960s (Hardcover)
Veloce Publishing, 9781845844165, 176pp.
Publication Date: August 5, 2014
* Individual store prices may vary.
Description
The 1960s was a unique era in the history of motorcycle Grand Prix racing, and arguably marked the last period of 'traditional' road racing. The decade saw the rise of the Japanese factories that would eventually dominate the sport, and the burgeoning two-stroke technology that would go on to replace the traditional four-stroke machines. It was undoubtedly one of the most glorious and exciting times as far as technological diversity was concerned, with machines that displayed a remarkable variety of technical complexity – at least fifty different makes of machine from over half a dozen countries were involved in the events.
This book covers these years in full – the bikes, the riders, and the races – offering a beautifully illustrated and engrossing account of a remarkable era in Grand Prix racing.
About the Author
Born in Sri Lanka, Chris Pereira became interested in Motorcycle Racing in the late 1940s after reading the Motor Cycle and Motor Cycling magazines and acquiring his father's scrapbooks of pre-war TT riders. He emigrated to England in 1955 and worked for racing dealer Arthur Taylor who was the sponsor and father-in-law of former World Champion Cecil Sandford. He attended many race meetings during the 1950s and 1960s, and then started Club Racing briefly in 1965, followed by more extensive Vintage and Classic racing from the 1970s to 2015. Chris rode in the Classic Manx GP in 1984 and the Classic TT in 1990. He has an extensive library covering all aspects of motorcycle racing, both pre-war and post-war, and a photo library of over 1000 racing photographs. He was also historian to the TT Riders Association.


Praise For Motorcycle GP Racing in the 1960s…
"A highly interesting read ... Well worth the money" - Motorrad News
"an important and valuable book for anyone who considers themselves at all interested in grand prix motorcycles. The illustration and pictorial content is lavish and the tech spec and detail contained within the pages is unrivalled ... As a factual reference for statistics, results and performance, the book itself is Google in print. It's also a treasure trove of photos and reminiscence of a great period in motorcycle racing history." - Motorcycle Sport Scotland
"Pereira appears to have sourced a lot of fresh images, great images too ... a really useful reference guide to the era, especially with the full results, stats and machine specs tucked away at the back and it's certainly a useful and welcome addition to my bookshelf!" - Classic Bike Guide
or
Not Currently Available for Direct Purchase