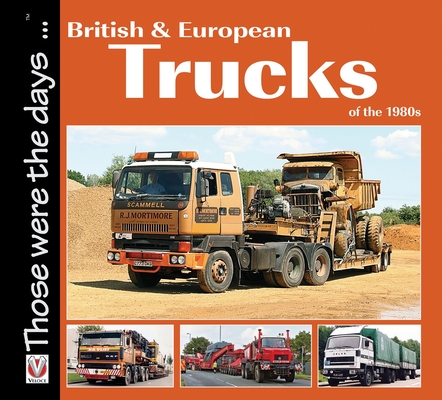 British and European Trucks of the 1980s (Those were the days...) (Paperback)
Veloce Publishing, 9781845844172, 96pp.
Publication Date: October 1, 2013
* Individual store prices may vary.
Description
Mergers, amalgamations and joint ventures have meant that the number of pan-European truck manufacturers can now almost be counted on the fingers of one hand. Modern legislation governing gross weights, emissions and operations, also mean that many of today's trucks are almost uniform. However, there was a decade when more than 50 truck manufacturers built a diverse range of sizes and configurations, the like of which will not be seen again. Increasing gross weights, the exploration of ultra-long haul routs, and the virtual doubling of engine power over the previous decade meant the '80s were a period of dramatic change. British and European Trucks of 1980's takes a look behind the scenes of some of the major players of the era, their successes and failures. Yet, it also covers smaller, often obscure manufacturers--such as those from former the Eastern Bloc, many of which were never seen outside their native countries.
About the Author
Colin Peck started his career in road transport in the mid-1960s and held a number of management positions in such companies as Thorn Electrical and Pickfords Heavy Haulage. His experience at such companies led him to a successful career in road transport journalism, writing for trucking magazines from Australia to America, Canada to South Africa. During the 1980s he was European Editor of the leading US-based trucking magazines, Heavy Duty Trucking and Transportation Engineer. He subsequently entered the public relations industry, and has handled the UK PR strategies for such organizations as BRS and Ryder.
Praise For British and European Trucks of the 1980s (Those were the days...)…
"The interesting text is backed up by ... evocative pictures ... a recommended read." - Transport News
or
Not Currently Available for Direct Purchase