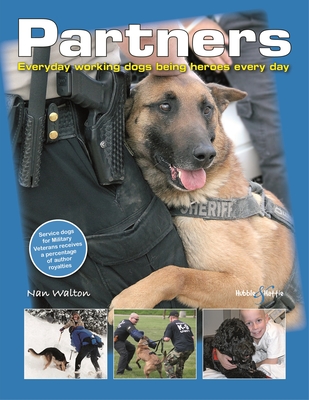 Partners
Everyday Working Dogs Being Heroes Every Day
Hardcover

* Individual store prices may vary.
Description
Partners celebrates the diversity of the canine contribution to our species, providing the reader with heart-warming stories of loyalty, perseverance and courage, as evidenced by examples of the five disciplines dealt with in Partners: law enforcement, guide dogs, therapy dogs, scent-detection dogs and search and rescue dogs.
Written by people who learned to trust their lives to the senses of a dog, and highlighting true examples of working dog behaviour, it enables all dog lovers to understand the inborn senses and instincts of their dog, which man can shape to his benefit.
Instincts tie these stories together: Bart finding a child lost on a mountain, Traveler pulling his blind partner from the path of a moving car, and Truman soothing the souls of abused children. With specific explanations of physiological attributes and innate characteristics - such as olfactory prowess, survival instincts, and intelligent disobedience - plus quotes from fifty canine professionals chronicling working dog behaviors, Partners demonstrates the similarities between the behaviour of a tender Cocker Spaniel that brought an abused child back to reality, and a tough law enforcement K9 that assured his handlers safety. This is the story Partners delivers - unity.
Praise For Partners: Everyday Working Dogs Being Heroes Every Day…
"An amazing read" – Dogs Today
—
-
"Each of these vivid snapshots is packed with colorful anecdotes, connecting powerfully to the reader with depth and panache. Upon finishing "Partners," I guarantee you will not look at one of these special dogs the same." - Ranny Green, Seattle Kennel Club
—
-
"We like Partners ... [it] illustrate[s] the positive effects therapy animals can have on people in need of comfort ...Nan has a unique perspective on the experiences of a handler." - Pet Partners Interactions Magazine
—
-
Hubble & Hattie, 9781845844202, 160pp.
Publication Date: June 1, 2013
About the Author
With 18 years of in-the-field experience in search and rescue, forensic crime scene recovery, narcotics detection, and therapy dogs, DeeAnn 'NanÃ? Walton has a unique understanding of dog behavior. SheÃ?s been there, experienced the training, the searches, the behavior, the push and pull to accomplish what man wants in the face of the dogÃ?s innate senses and inherent instincts. Through her writing, DeeAnn aims to draw attention to the positive, essential, life-saving, and heroic qualities that all dogs are born with, and remind us how worthy of our love and respect these amazing animals are.
or
Not Currently Available for Direct Purchase