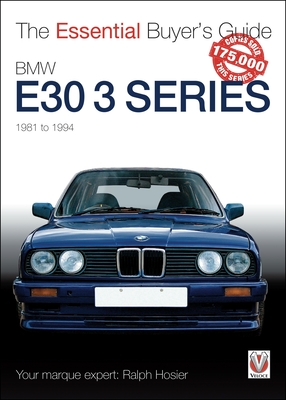 BMW E30 3 Series (Paperback)
1981 to 1994 (Essential Buyer's Guide)
Veloce Publishing, 9781845844431, 64pp.
Publication Date: February 1, 2013
Other Editions of This Title:
Paperback (12/1/2013)
* Individual store prices may vary.
Description
This book is your ticket to a world of fun, excitement, exploration and satisfaction: the world of the iconic BMW E30 3 series.
Starting with a quick model history, this book introduces the key features of the E30. Containing a detailed set of model guides to explain the differences and features unique to each, and an assessment of how useful and effective these are. The book's 'How to' sections help you identify E30 problem areas, while a wealth of useful data and comparison charts help you choose which model is right for you.
Details of parts costs, the relative difficulty or ease of the tasks needed to keep these classic cars in good order, specifications and a list of useful contacts in the BMW community – from clubs to specialists dealers are just a few more features of this jam-packed book.
Written by a qualified engineer, and a racer with many years of practical BMW experience, the clear text and straightforward manner, supported with detailed photographs, means that this book is just like having a real marque expert at your side.
About the Author
Ralph Hosier's childhood enthusiasm for cars developed into a two-decade career in vehicle engineering, working with the likes of Ford, Bentley, Jaguar and Land Rover. He has a degree in engineering and is chartered, as well as being a member of the IMI and IET. Ralph started modifying cars in the late 1980s, and over the years has built a number of race and road cars. He holds a National A race licence, has a passion for club level motorsport, and has built several BMW track and road cars.
or
Not Currently Available for Direct Purchase