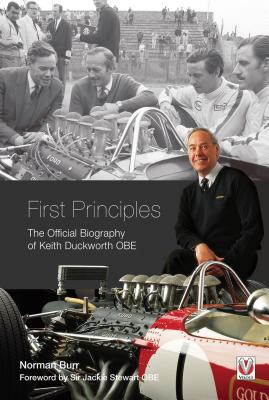 First Principles (Hardcover)
The Official Biography of Keith Duckworth OBE
Veloce Publishing, 9781845845285, 252pp.
Publication Date: July 1, 2015
Other Editions of This Title:
Paperback (9/19/2017)
* Individual store prices may vary.
Description
The names 'Keith Duckworth' and 'DFV' are practically synonymous, such is the reputation of the famous F1 racing engine which he designed.
Whilst there are books covering the technical aspects of the DFV engine, and other designs from Cosworth, the company which he founded with Mike Costin, there are many gaps in the story of Duckworth's career, before and after Cosworth. This book comprehensively fills those gaps, taking the reader into the world of Britain's finest 20th century engineers.
It was a world consisting of far more than motorsport, embracing an astonishing variety of mechnical devices, including aircraft, boats, and motorcycles - particularly Triumph, for whom he was a consultant during his retirement.
A man of strong convictions and high integrity, Keith Duckworth OBE cared passionately about his work, fitting almost every aspect of his life around it. His northern industrial roots, the ups and downs of his personal life, his health problems, and his generous support of charities and business start-ups, combine to create the story of one of motorsport's - and engineering's - most endearing and enduring characters.
Foreword by Sir Jackie Stewart OBE.
About the Author
Trained as an engineer at Rolls Royce Aero Engines and Bath University, lifelong petrolhead Norman Burr has been a technical journalist practically all his working life. Initially with professional and industrial magazines, then as a freelance, and subsequently through Pagefast Ltd, a small printing and publishing company that he helped found, he later returned to freelance journalism in 2006. It was Keith Duckworth's enthusiasm for aviation, rather than his better-known motor sport contribution, that provides the connection, but as an accomplished author in both areas, Norman Burr is ideally positioned to chronicle the life of this legendary engineer.
Praise For First Principles: The Official Biography of Keith Duckworth OBE…
"The complete life of a motor sport great, interspersed with his wit and wisdom; it certainly invoked plenty of belly laughs. Definitive." - Classic Cars
"an insight into the person behind the machines." - klassiekerrally.nl
"Extensively researched, the book includes not just fascinating details of the man himself and his family but also the background to the growth of Cosworth and the technical details of the engines produced ... A great read. - The Marshal
"[The] definitive biography of one of the most important figures ever in British motor racing ... this book should be required reading for anyone interested in the evolution of Grand Prix racing since 1945." - BRDC Bulletin
"I would highly recommend this book. Not only will it appeal to Lotus enthusiasts but also to followers of motor sport in general, including anyone who is interested in reading about one of the men who helped Britain to become a world leader in motor sport engineering development." - Historic Lotus Club
"Well researched and highly readable" - F1 Fanatic
"Not only is the author's engineering background evident in his treatment of the more technical aspects of the narrative, he has done a fine job in pulling together the details of his subject from a more personal angle. As an insight into the life and philosophy of a brilliant engineer it could hardly be bettered. Absolutely essential reading." - Speedscene
"In an age of high tech, digital design this biography of Keith Duckworth is refreshing, taking you back with some nostalgia to a golden age of intuitive, and British, engineering design." - Microlight Flying Magazine
"... an enthralling book ... One of my books of the year, for sure." - tkc (Totalkitcar)
"[An] extremely interesting book. It would be an excellent holiday read." - ACtion
"Chronicling the life of the legendary Keith Duckworth ... this excellent and highly readable book offers a rounded look at the life and work of this remarkable man ... A must read and highly recommended." - Club Lotus News
"entertaining and revealing ... an informative and valuable piece of research on an outstanding British engineer whose contribution has always deserved far wider exposure." - Kieron Fennelly
"there is much, much more within the covers that the book's compact dimensions imply ... Worthwhile, in a word." - Motor Sport
"[A] superb read ... A wonderful insight into a much-missed man. Highly recommended." - Classic & Sports Car (UK)