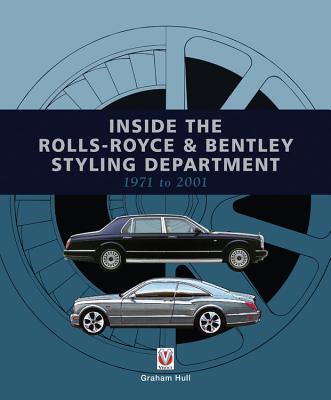 Inside the Rolls-Royce & Bentley Styling Department 1971 to 2001 (Hardcover)
Veloce Publishing, 9781845846015, 176pp.
Publication Date: April 1, 2014
Other Editions of This Title:
Paperback (10/1/2019)
* Individual store prices may vary.
Description
From a small design team working on the Silver Spirit/Mulsanne, to becoming Chief Stylist, Graham Hull peels back the curtain on an idiosyncratic institution during his time at Crewe. Throwing light on a factory motivated as much by pride as the bottom-line, all of the projects - whether production, special commission, or aborted designs - are covered, and the often unique styling process is explored. This process was a key element in the resurgence of the dormant Bentley marque, that, with its fortunes on the rise, became the star of the Geneva Motor Show, attracting commissions from wealthy enthusiasts for totally bespoke vehicles. Founding fathers Royce and Rolls melded engineering with marketing, but as marketing took over, this union fractured. The drama of how this British institution was divided between BMW and VW, and how aesthetic design, never cherished by British management, was increasingly recognised, is fundamental to the story. The bewildering number of projects during the 1990s is a genuine eye-opener and a phenomena that demanded unique people, skills, and facilities.
About the Author
Graham Hull, an early graduate from the world-famous Royal College of Art Automotive Design course, joined Rolls-Royce and Bentley Motors, Crewe, in 1971. He became Chief Stylist, responsible for both marques in the mid '80s, and was deeply involved in the spectacular re-birth of Bentley. He remained at Crewe after BMW bought Rolls-Royce, and VW bought Bentley, leaving in 2001. During his time at Crewe, he worked closely with the seven Managing Directors at the factory. Very much a hands-on enthusiast, he was not only responsible for creating artwork, but was involved in several of his own one-off vehicle projects. Graham's experiences are recorded in his book Inside the Rolls-Royce & Bentley Styling Department, and he has another book about innovative car designs called To Boldly Go, which is illustrated with his own drawings. Both are published by Veloce.
Praise For Inside the Rolls-Royce & Bentley Styling Department 1971 to 2001…
"A superb book!" - Oldtimer Magazine/ Dreamcar Magazine
"this is a useful reference as well as a fine read." - Classic & Sports Car (UK)
"Books by stylists are fairly rare, and for such a famous company, comparatively little has been written in any context about the Rolls Royce and Bentley operation at Crewe, so Graham Hull's book is doubly welcome ... A fascinating account of how two of the most famous marques in the world were designed and built effectively by a cottage industry and one which, thanks to the needs-must school of ingenuity, survived into the twenty-first century." - Kieron Fennelly
or
Not Currently Available for Direct Purchase