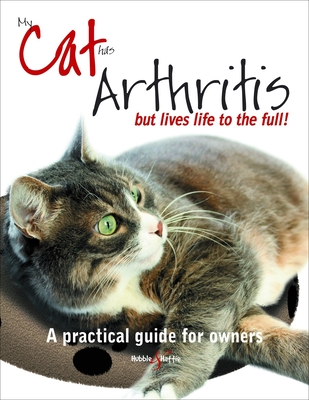 My Cat has Arthritis...but lives life to the fullest! (Paperback)
A practical guide for owners
Hubble & Hattie, 9781845846183, 80pp.
Publication Date: September 5, 2014
* Individual store prices may vary.
Description
Arthritis doesn't only affect humans and dogs; cats can suffer too. This debilitating condition is on the rise, and while cats' survival instincts mean they don't usually vocalize their pain, it doesn't mean they're not hurting. My Cat Has Arthritis, but lives life to the fullest, gives our feline friends the voice they've been longing for. With expert input from leading feline vets, cat dieticians, and specialists in complementary therapies, this book covers all aspects of the disease, from how to spot the signs, to where to go for help. Areas covered include: the types of feline arthritis; the importance of an early diagnosis; the different kinds of treatment available, and the question of euthanasia for cats whose pain and discomfort sadly cannot be controlled. Featuring moving case histories, owner insight, and lavish color photos, this book is an invaluable companion for all cat owners, and anyone considering getting a cat.
About the Author
Gill Carrick is an author and well-established feature writer, contributing to a range of national newspapers and magazines in the UK and abroad. A former travel producer and presenter for the BBC, Gill also has presented good-health guides, syndicated to radio stations across the UK. Gill has written extensively on health matters for a number of publications, and has edited health guides. Her most recent book is the Essential Guide to Arthritis.
Praise For My Cat has Arthritis...but lives life to the fullest!: A practical guide for owners…
"This book shares the insights and practical management perspectives of cat owners and health care professionals about this complex disease. Books such as this are an invaluable resource for cat lovers, and undoubtedly will lead to the improved quality of life - and potentially the longevity - of countless feline friends across the world." - Dr Richard GowanBVSc(Hons) MACVSc (Feline Medicine)The Cat Clinic, Melbourne, AustraliaPresident of the Australasian Society of Feline Medicine
"Each chapter contains owners' comments, individual case notes and excellent photographs which I think will help those owners confronted with these problems tremendously. ...worth every penny." -Trevor Turner
"Informative ... a practical guide for any cat owner, especially those with cats reaching their twilight years." - The Cat (Cats Protection magazine)
or
Not Currently Available for Direct Purchase