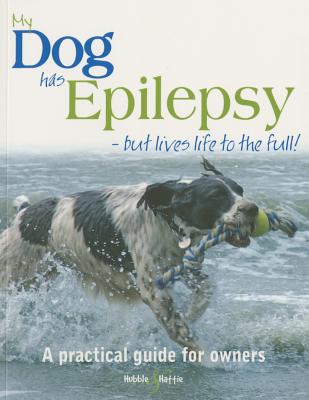 My dog has epilepsy...but lives life to the full! (Paperback)
A practical guide for owners
Hubble & Hattie, 9781845846190, 80pp.
Publication Date: October 29, 2014
* Individual store prices may vary.
Description
Just like humans, dogs can suffer from epilepsy. It's often described as an "electrical storm" in the brain, when millions of nerve cells fire together resulting in a seizure. These fits can vary from mild to severe, and can be dangerous for the dog and distressing for the owner to witness. Thankfully, there's a lot that can be done to help dogs with the disease live a full and happy life.
Whether your dog has just been diagnosed with epilepsy, or has lived with the condition for some time, My Dog has Epilepsy ... but lives life to the full provides the answers to the questions that you're likely to have about this disease - and shows the way to handling your dogs condition.
Packed with practical advice and input from leading neurological vets, this guide is an invaluable companion for owners, with chapters on the different types of seizures; why they happen; the signs to look out for; how to protect your dog from injury during convulsions; the importance of the right diagnosis; treatment options; the role of diet and exercise; and quality of life issues.
About the Author
Gill Carrick is an author and well-established feature writer, contributing to a range of national newspapers and magazines in the UK and abroad. A former travel producer and presenter for the BBC, Gill also has presented good-health guides, syndicated to radio stations across the UK. Gill has written extensively on health matters for a number of publications, and has edited health guides. Her most recent book is the Essential Guide to Arthritis.
Praise For My dog has epilepsy...but lives life to the full!: A practical guide for owners…
"I can't recommend it highly enough ... everyone whose dog has epilepsy will gain tremendously from the useful tips and explanations about the whole subject of epilepsy, and, above all, it is easy to read and understand." - Dogs Today
"This is a wonderfully informative yet really easy to read book that clearly explains epilepsy and the effects it can have on your dog ... With the help of this book you can learn a lot and also be reassured that epilepsy doesn't necessarily mean the end for your canine companion." - Lost and Fond Blog
"The road to the development of DNA tests for epilepsy will, nevertheless, be a long one, and the insights provided by this book regarding the day-to-day, practical management of epilepsy, how to cope during a seizure, and considerations regarding quality of life will undoubtably represent a wealth of useful information and support for owners of affected dogs." - Cathryn Mellersh, PhD Head of Canine Genetics Animal Health Trust, UK
or
Not Currently Available for Direct Purchase