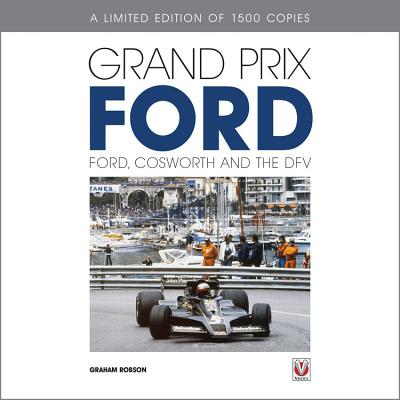 Grand Prix Ford - Limited Edition (Hardcover)
Ford, Cosworth and the DFV
Veloce Publishing, 9781845846244, 272pp.
Publication Date: December 14, 2015
* Individual store prices may vary.
Description
This book is based on a concept placed with Veloce by Anthony Pritchard shortly before his death in 2013. Graham Robson has written a detailed and superbly illustrated account of the Formula 1 cars powered by the Ford DFV V8 engine. This all-conquering power unit was the result of discussions between Colin Chapman, boss of the Lotus car company, and the UK Ford Motor Company. Design, development and manufacture was entrusted to the Cosworth company in Northampton, in response to Lotus' desperate need for an engine for the 3000cc Formula 1 regulations that came into force for 1966. Lotus had exclusive use of the DFV in 1967, its first season, when Jim Clark drove the DFV-powered Lotus 49 to four World Championship victories.
Becoming available to other Formula 1 teams in 1968, adopters included McLaren and Matra. Graham Hill won the Drivers' Championship with DFV-powered Lotus cars in 1968, and drivers of DFV-powered cars won the Championship in 13 out of 16 years. Year by year, the power of the DFV engine increased; new companies were set up to overhaul the DFV; and engines prepared by these companies were more powerful than those emanating from the factory.
Robson's narrative starts with a look at Ford's strategy of entering F1, a description of the design and development of this engine, and details the successes - and failures - of every Formula 1 car powered by the DFV engine. During these years the only manufacturer to successfully challenge DFV power was Ferrari, with drivers Lauda and Scheckter winning the Drivers' Championship on three occasions. Because the DFV later gave rise to successful derivatives, such as the turbocharged DFX, and the DFY, DFZ and DFR evolutions, these are also analysed.
This important book is illustrated with more than 300 photographs, most of which come from the UK Ford Motor Company's own archives.
About the Author
After a varied career in the automotive industry, Graham Robson has gained a worldwide reputation as a motoring historian, and has more than 160  books to his credit. Born in 1936, and educated at Ermysteds Grammar School in Yorkshire, Graham then went on to study Engineering at Oxford University. He  joined Jaguar Cars as a graduate trainee, becoming involved in design work on the Mk II, E-Type and Mark X. Beginning as a hobby, he became a rally co-driver, eventually joining the Sunbeam 'works' team in 1961, and took part in rallies up to International level (once with Roger Clark), but stopped rallying by 1968. During this time, he joined Standard-Triumph in Coventry, in 1961, as a Development Engineer, mainly on sports car projects. He then ran the re-opened 'works' motorsport department from 1962 to 1965, this being the period of the birth of Spitfire Le Mans cars, TR4, Vitesse, Spitfire and 2000 rally car developments. Graham Robson's writing began with rally reports for magazines which evolved into a job with Autocar from 1965 to 1969. He was recruited back to industry at Rootes to run the Product Proving department, then after a brief period in 1972 as technical director of a safety belt company, became an independent motoring writer. Graham has lived 'by the pen' and 'by the voice', not only writing but commentating, presenting and organising events of all types.
 
Praise For Grand Prix Ford - Limited Edition: Ford, Cosworth and the DFV…
"colourful and fun. A thorough look at several Formula One eras from a different angle." - Classic Cars
"a very useful reference" - Classic & Sports Car (UK)
"Graham Robson's history of the DFV could not be more comprehensive. It is as detailed as it is photographically glorious and will be the key reference for anyone needing a large dose of DFV ... it is hard to imagine a more complete work on the most influential engine in the history of racing." - Motor Sport
"the definitive guide to the DFV and derivative engined Fl cars, by an author who has met and spoken to most of the main actors over the years" - www.silhouet.com
"a detailed and superbly illustrated account of the Formula 1 cars powered by the legendary Ford-Cosworth DFV V8 engine ... a great addition to any Ford or Cosworth fan's library." - Classic Ford
"a fascinating everyday story ... Graham Robson has written two books in one; first it's a good story which includes the necessary heroes and villains, then comes the reference bible on what became the 'world's favourite Formula One engine'." - RETRO SPEED
or
Not Currently Available for Direct Purchase