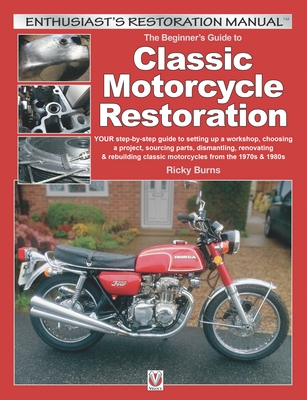 The Beginner's Guide to Classic Motorcycle Restoration (Paperback)
Your Step-by-Step Guide to Setting Up a Workshop, Choosing a Project, Dismantling, Sourcing Parts, Renovating & Rebuilding Classic Motorcyles from the 1970s & 1980s (Enthusiast's Restoration Manual)
Veloce Publishing, 9781845846442, 144pp.
Publication Date: September 5, 2014
* Individual store prices may vary.
Description
The 1970s and 1980s were wonderful eras for the motorcycle, with their assortment of crazy two-strokes, and the first multi-cylinder superbikes coming thick and fast from Japan. It was a time of fast-paced engineering advances, and a time in motorcycle history that is unlikely ever to be repeated. Those over-budget motorcycles that we longed for then are now available well within budget ... and just waiting to be restored. This book will guide you, in detail, through every stage of classic motorcycle restoration. From sourcing a bike, to outlining each of the techniques, tips and tricks used by experts, this guide will save you time, money, and - best of all - show you that you don't need expert knowledge or a fully-fitted workshop to restore your dream bike. Packed full of photographs, and with detailed instructions, this book is the perfect companion for any classic motorcycle restorer.
About the Author
Growing up in the early 1970s, surrounded by Yamahas, Hondas, Suzukis and Kawasakis, Ricky Burns had no choice but to fall in love with motorcycles.Since those early days, he has oiled, maintained, fixed (and broken for parts) many fine specimens of now classic motorcycles but, nowadays, he tends to restore them, rather than break them.Having personally restored many classic motorcycles, from small Yamaha two-strokes, to large Honda Goldwings, he has now decided to share his restoration experiences with like-minded enthusiasts.
Praise For The Beginner's Guide to Classic Motorcycle Restoration: Your Step-by-Step Guide to Setting Up a Workshop, Choosing a Project, Dismantling, Sourcing Parts, Renovating & Rebuilding Classic Motorcyles from the 1970s & 1980s (Enthusiast's Restoration Manual)…
"As you would expect the authoritative text written in plain English is backed up with plenty of sharp high quality images. Although aimed at the beginner it is the perfect guide for anybody tackling a classic motorcycle restoration and its money saving tips will easily cover the modest cost of book over and over again. Printed as a soft-bound book in workshop manual style it is the perfect workshop companion and well worth the cover price." - Ian Kerr - Freelance
"For those who would like to restore a motorcycle from the 70s and 80s, this book is a very useful book." - Klassiek & Techniek
"Burns covers all the bases and writes from a perspective that a lot of back yard would-be classic bike restorers can appreciate ... Chances are, if you have never restored a motorcycle of any age or brand, a good first step before you lay out the cash for a bike to restore might be to lay your hands on Ricky Burns' book." - UltimateMotorcycling.com