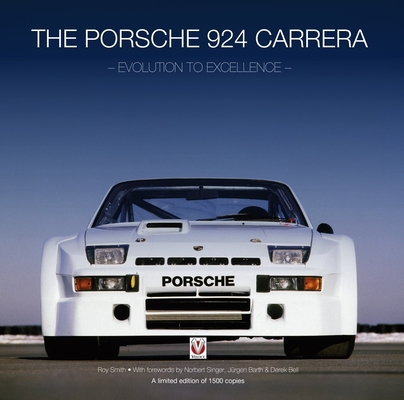 The Porsche 924 Carreras (Hardcover)
Evolution to Excellence
Veloce Publishing, 9781845846459, 320pp.
Publication Date: April 1, 2015
* Individual store prices may vary.
Description
A limited edition of 1500 copies.
This is the story of an incredible and very rare car. The 924 Carrera was widely reported at the time as being one of the greatest of the Porsche 'specials,' but has been overshadowed in history by other models. Here, for the first time, is the definitive story of the Porsche 924 Carrera. One of the great supercars of the 1980s, the 924 Carrera was considered by many to have better handling characteristics than Porsche's flagship 911. The book features interviews with many of those involved with the car at the time, both in Europe and the USA, together with race stories, statistics, and a unique expose of component failures during racing. Road tests examined the 210bhp, 150mph road car's performance, magazines hailed it as one of the greatest Porsche 'specials,' and rumor says that the last front-engined models could have threatened the sales of Porsche's flagship 911, causing the front engined 968 model to be 'killed off.' From its early conceptual phase and the 924 Rallye Turbo of 1979, to the prototype 924 GTR/P that tested at the Paul Ricard Circuit and went on to place sixth at Le Mans in 1980, this book records the model's evolution to excellence, based on extensive research in Porsche AG's own archives. It covers the 406 Homologation models, built to qualify for Le Mans, and the 59 very special competition models, as well as the 17 GTR racing models. With race details covering Europe and the USA, from the Sports Car Club of America production D racers, to the GTO and Trans Am class 924 GTRs of the mid-80s, this is the first time that the full history of this rare supercar has been told.
About the Author
Roy Smith is a retired company director who has a lifelong passion for motorsport, and, since 1968, Alpine Renault in particular. He began writing in the 1960s for club magazines, mainly interviews with the notables of the time. A 40-year business career in sales and marketing developed an attention for detail that was required for the preparation of his published works Alpine & Renault - the sports prototypes (two volumes), Alpine & Renault- the development of the first Turbo Formula 1 cars and AMEDEE GORDINI - a true racing legend. As a journalist he has written many historic motorsport and Alpine Renault-related articles for various magazines in Europe and USA. He is the UK historic correspondent for the French magazine Retro Passion and the Alpine Renault magazine, Mille Miles. He also contributes to several websites. His aim is to provide the newcomer and enthusiasts alike with a "good read," as well as being technically informative. Widely acclaimed in reviews, he was presented with the Guild of Motoring Writers Mercedez Benz award and the Montagu of Beaulieu Trophy in 2010.

Praise For The Porsche 924 Carreras: Evolution to Excellence…
"[The book's] appeal is sure to go beyond Porsche fans." - Auto Express
"Roy Smith's book underlines the credentials of the 924 as a 'real' Porsche with the warmth and passion that comes from being a proud owner himself." - Classic Car Weekly
"There are plenty of fresh quotes ... along with some super images ... much to like." - Octane
"Roy Smith has a happy knack of uncovering relatively obscure chapters of motor racing history and bringing them into the light with compelling new detail ... Now he has done it again with his most recent effort ... Porsche 924 Carrera is a fine book: Porsche is the most written-about car company in the world and Roy Smith's achievement is to have found much original material when so many other works on Porsche tend to cover well trodden ground." - Kieron Fennelly
"remarkably in-depth ... Roy Smith has trawled the company's archives to produce a comprehensive hardback, and the result is impressive ... a highly readable account" - Classic & Sports Car (UK)
"It's high time there was a lavish, scholarly and thorough book on the 924 Carrera, and Roy P. Smith has delivered in style ... This is a beautiful book, with an enormous collection of period photography sitting alongside excellently researched, but still enjoyably readable, text. It's a solid addition to any Porsche bookshelf, but if you're a fan or owner of a 924 Carrera then it's a must-have. There's no better history of the model available." - All Torque magazine
or
Not Currently Available for Direct Purchase