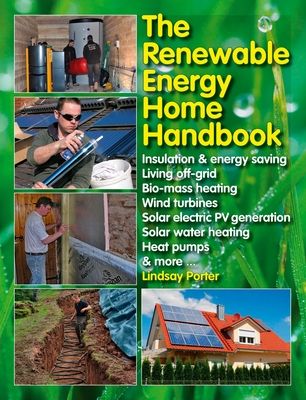 The Renewable Energy Home Handbook (Hardcover)
Insulation & energy saving, Living off-grid, Bio-mass heating, Wind turbines, Solar electric PV generation, Solar water heating, Heat pumps, & more
Veloce Publishing, 9781845847593, 192pp.
Publication Date: May 15, 2015
* Individual store prices may vary.
Description
The Renewable Energy Home Handbook is biased towards the practical, and covers the installation of all leading types of alternative domestic energy sources - from ground- and air-source heat pumps, PV solar electricity generation and solar water heating, to bio-mass domestic heating systems and wind turbines. Discussing the pros and cons of each technology, it also provides you with a clear overview of what's genuinely required and the benefits to be gained from each system.
The author, Lindsay Porter, is best known for his books on motor vehicle technology, making car mechanics and body repairs easy to understand and carry out. But alternative energy and conservation have long been a passion for him and his wife, Shan, so this manual is very much a labour of love. Here, Lindsay applies his commitment to making difficult subjects easy for everyone to understand to the money-saving - planet-saving - systems we can apply to our homes.
About the Author
Lindsay Porter has written more than 50 how-to books and well over 1000 practical articles for magazines on motoring, caravanning and other subjects. His first piece of professional writing was in 1979, for DIY (Do It Yourself) Magazine, explaining how he and wife Shan built and extended their own country cottage - the cottage they still live in today. Even then, their house was designed (by Lindsay) and built to the highest standards of insulation and sustainability.
Lindsay's first technical book was the first-ever car Restoration Manual and set the pattern for similar books, so it makes perfect symmetry that this, his latest book, is the first, complete Renewable Energy Home Manual.