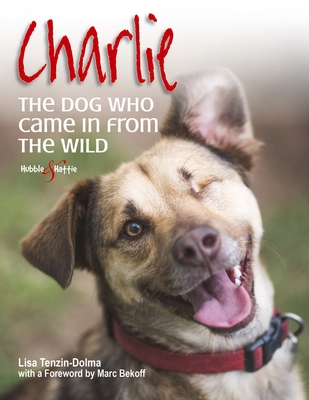 Charlie
The dog who came in from the wild
Paperback

* Individual store prices may vary.
Description
One cold February night, a terrified feral dog was carried into the author's home, and began a very different life to everything he had previously known. This is the true story of the extraordinary bond that developed between Lisa and Charlie, a one-eyed Romanian feral dog, who had lived wild until he was captured and sent to the UK to be homed. Unused to the presence of people, Charlie had no coping skills other than to follow his instincts. Although Lisa had worked with many deeply troubled dogs, the challenges posed by Charlie's background were unique. Wild, fearful and highly reactive, more wolf than dog, Charlie needed a great deal of understanding, patience and compassion in order to help him adjust to his new life.
Despite numerous obstacles and setbacks, the developing relationship between Charlie and Lisa, and Lisa's daughter, Amber, and resident dog, Skye, transformed all of their lives. Charlie's gradual shift from fearful feral to happy, affectionate, fun-loving family dog is touching and heart-warming, and clearly demonstrates the transformative power of love and kindness.
Praise For Charlie: The dog who came in from the wild…
"A fascinating must-read for those who are considering adopting or caring for a feral dog or stray. Throughout my charity's work in Romania, and as an adopter of stray dogs myself, I have come to notice many of the same behaviors as this book states. Not only does the author go into the behavior, but she gives us enlightenment as to why certain behaviors occur and the appropriate, compassionate responses to alleviate fear and anxiety. The reader understands how the dog's brain works, their perception, sees the world through their eyes, or in Charlie's case, his one eye. Welcoming a rejected soul into a loving and stable environment takes compassion, love, determination, and utmost kindness. The trials and tribulations will warm your heart, perhaps bring a tear to your eye, have you bursting into laughter on occasion, but primarily give you, the reader, insight as to how compassion for those less fortunate is not only a gift for the rescued dog, but a gift of eternal fulfillment and feeling of worthiness for us as humans. Thank you, Lisa Tenzin-Dolma, for reaching out to people who care. A true gift of the heart." - Nancy Janes, founder, President and CEO of Romania Animal Rescue, Inc., Animal Spay Neuter International, and Homeless Animal Hospital.
—
-
"This book gives valuable insight to anyone considering adopting and sharing their lives with a rescue dog. Join the author as she takes you on her step by step journey, setting about socialising Charlie to his new world, and be guided by her indispensable advice in how to deal with the many behavioural problems often associated with dogs that are introduced to unfamiliar and scary new surroundings. The flick of each page will touch your heart as you experience what life is like on both sides of the fence, living with and gaining the trust of a dog like Charlie. It is, in short, a gem." - Maxwell Muir, Action 4 Dogs
—
-
"This is a beautifully written book where Lisa's depth of knowledge and experience empowers the reader to understand the soaring highs and painful lows of adopting a terrified feral dog. Her insights and explanations from both the human and dog's point of view are exceptional, and can be empathised and implemented on by any dog owner or anyone considering adopting a dog. Highly recommended reading for any dog lover." - Sally Hopkins, renowned dog trainer and lecturer and the designer of dog harnesses, collars and leads, including the Perfect Fit harness that Charlie wears.
—
-
"A beautiful, heart-warming and sincere account of the developing and loving relationship between human and man s best friend. Charlie, The Dog Who Came in from the Wild takes you through an extraordinary journey of overcoming fear and behaviour issues through patience, trust, compromise and understanding for both Charlie and his wonderful guardian, Lisa. It highlights the changes and sacrifices we are prepared to make as a compromise for co-existing with another animal who has not asked to live with us but who has learnt to love us all the same. This book is a must read for anyone who has an interest in dog compassion, feelings and care. It teaches us not just about the suitcase of emotions dogs can display and feel (and how quickly these can change), but how dogs view their world and the sensitivities that surround them. The resilience of the dog-human bond is remarkable and unbreakable. With trust, compassion, patience, understanding, love and care, canines will always remain as man s best friend...and sidekick! A great lesson about dogs and a great lesson for their human brethren; a lesson that can be transferred to all animals, including ourselves!" - Dr Isla Fishburn, Holistic dog behaviourist
—
-
"Charlie, the Dog Who came in From the Wild is a book that transcends the world of rescue, the world of dog guardianship and the notion of simply loving dogs for who they are. This is a story of mutual learning, of developing trust and of facing the most pertinent questions that lie at the heart of 'rescue'. This is an important story for anyone who shares their life with a fearful dog and provides much needed education for professionals working with dogs. Charlie's experience of his new reality is shared beautifully by Lisa Tenzin-Dolma who, along with Team Charlie, provides inspiration, education and an honest portrayal of life with a feral dog. The lessons from Charlie, with Lisa's incredible understanding of canine psychology and behaviour, offer a profound insight into the power of the human-canine bond." - Marie Yates, founder of Canine Perspective CIC
—
-
"Everyone can take something from Charlie's story. There are messages of hope scattered throughout this book which highlight the power of love not only for dogs, but all animals, not only for animals but humanity. And that is something quite extraordinary. To read this book is to nurture one's soul." - The Glass House
—
-
"Exceptionally well written, "Charlie: The Dog Who Came In From The Wild" will have a very special and engaging appeal to canine companions and dog lovers everywhere. A thoroughly absorbing and entertaining read from beginning to end." - Midwest Book Review
"What do you get when you pair a frenzied, one-eyed Romanian feral dog with a dynamic British author and rescue advocate?Enough adventure and challenge for a lifetime - as you will discover in this evocative narrative that brims with tension one minute and passion the next." - Seattle Kennel Club
—
-
Hubble & Hattie, 9781845847845, 112pp.
Publication Date: September 15, 2015
About the Author
Passionate about dog welfare, Lisa Tenzin-Dolma is the founder and principal of The International School for Canine Practitioners, and founder of the Dog Welfare Alliance, a non-profit organization which brings together members of the public and dog professionals, and supports rescue organizations across the globe. Lisa is the author of 21 books, including three about dog psychology and behaviour, and is a consultant for the BBC on dog-related issues.Marc Bekoff, is Professor Emeritus of Ecology and Evolutionary Biology at the University of Colorado, Boulder. In 2000 he was awarded the Exemplar Award from the Animal Behavior Society for major long-term contributions to the field of animal behavior. Marc is the author of more than 1000 scientific and popular essays, and 30 books about animals and animal behavior.
or
Not Currently Available for Direct Purchase