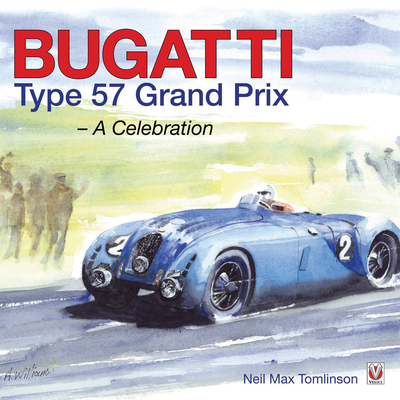 Bugatti Type 57 Grand Prix (Hardcover)
A Celebration
Veloce Publishing, 9781845847890, 176pp.
Publication Date: September 1, 2015
* Individual store prices may vary.
Description
This work examines the Type 57 Grand Prix cars, the creation of Jean Bugatti, Ettore's eldest son. The late Hugh G Conway wrote in Bugatti - Le pur sang des automobiles, that, after 1935, 'Bugatti's racing programme became involved and very confusing to the humble historian, without accurate factory records.' The T57G's story is complex and has taken more than forty years to draw together, study and evaluate. Revealing new material, Tomlinson takes the view that existing records can be reinterpreted with a revised mindset, challenging conformist beliefs and dismissing many conventions. The book describes the 57G's racing career and evolution through its siblings, the Types 57, 57S and 59. Type 57G characteristics are identified, with race-to-race body and chassis details described, and the Type 57G, 57S45, 57 'Sport' and 57C Le Mans cars are defined, and their enigmatic history revised.
This book celebrates the Bugatti T57 Grand Prix racing cars: their origins, triumphs, failings, trivia, trinkets, and a little about the personalities behind them, interwoven with the social and political influences of those times.
About the Author
Neil Max Tomlinson discovered the delights of veteran and vintage cars at an early age. In 1964, he was apprenticed in HM Forces as a motor vehicle engineer. Upon leaving service, he switched to production engineering, specializing in cross-discipline skills and the training of apprentices in mechanical, electrical and electronic engineering, to meet the 1980's challenge of automated processing and robotic systems, now widely known as Mechatronics. A member of the Bugatti Trust since its inception more than twenty years ago, he has written more than fifty articles for magazines and journals in the UK and USA since 1983.
Praise For Bugatti Type 57 Grand Prix: A Celebration…
"provides a comprehensive and, indeed, radical look at these iconic and historic racing cars ... An absolutely essential book -- recommended for both Bugatti and historic motor-sport enthusiasts." -New Zealand Classic Car
"It certainly does impress ... Well worth a thorough read" - The Bugatti Review
"a serious exploration by a member of the Bugatti Trust into the competition variants of Ettore's, or perhaps more properly Jean's, great Type 57 sporting machine ... Alongside the engineer author's very evident deep research are photos of his own impressive collection of Bugatti models" - Motor Sport
"IT'S HARD TO FIND enough adjectival phrases to do justice to this superb work by Tomlinson" - Octane (UK)
"an incredible wealth of detail" - Austro Classic
"for the semi-expert, it will provide many hours of bliss. We recommend it." - RETRO SPEED
"impressive ... buy the book yourself and you will be as fascinated as I was ... [I] was entranced and could not stop reading" - Motor Cycling Club (MCC)
"Superb, a must!" - Oldtimer Magazine/ Dreamcar Magazine
or
Not Currently Available for Direct Purchase