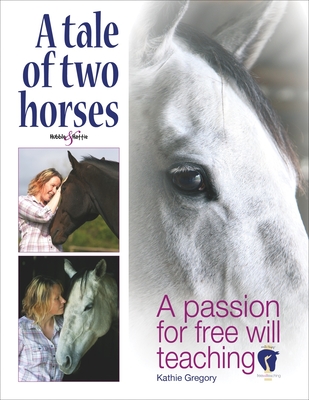 A Tale of Two Horses (Paperback)
A passion for free will teaching
Hubble & Hattie, 9781845847944, 144pp.
Publication Date: February 2, 2016
* Individual store prices may vary.
Description
A Tale of Two Horses tells the story of two ex-racehorses with behavioural problems, who embark on a rehabilitation programme using only positive, reward based methods, developing into self-confident, well balanced horses. Woven throughout is the story of their owner's life on a rural farm, and insights into her work as an animal behaviourist with dogs, cats and other species. Bringing horsemanship up to date with positive, reward-based methods, the truly kind and humane approach to working with horses that Kathie Gregory teaches will provide huge benefits for you and your horse.
Following the two horses over the course of a year, as they go from being reactive and unable to be handled, to calm, well-balanced, contented horses, you'll get to know the personalities of Charlie and Star, as they make the transition from racing to home environment.
This book provides an understanding of behaviour and learning theory, along with free-will, hands-off, and non-coercive techniques, and shows how to apply these principles for stress-free training. You'll learn how to prevent small issues becoming big problems, and make battling with your horse a thing of the past.
Easy to read, this book can be used as a complete start-from-scratch guide, or to browse through, selecting those parts that you wish to work on to achieve fantastic results: reliable behaviour, stress-free, happy and contented horse and owner.
About the Author
Kathie Gregory is a qualified animal behaviorist and trainer, who has worked in the industry since 2001. Passionate about raising standards and awareness in how we teach and work with animals, she encourages everyone to use the best methods available. The majority of Kathie's work is with horses and dogs, and she has a particular interest in ex-racehorses. Helping to resolve behavioral problems, training issues, and teaching one-to-one and group sessions, she also mentors and advises within the industry. Kathie uses scientifically proven methods and positive reinforcement techniques to ensure each animal receives the best in behavior and training modification.
Praise For A Tale of Two Horses: A passion for free will teaching…
"I thoroughly enjoyed reading this book and found Kathie's honesty and self-awareness, as well as her true love and understanding of the glorious Thoroughbred, delightfully refreshing ... Anyone who has a passion for horses or an interest in animal behaviour will find this publication a peaceful, inspiring and rewarding read." - Sarah Fisher
"Many people nowadays are becoming interested in keeping non-ridden horses not simply as field ornaments, but in a more richly fulfilling way. This book will be of particular interest to such people, as well as benefiting all those riders who also want to improve their general relationship with their horses." - Caitlin Collins
or
Not Currently Available for Direct Purchase