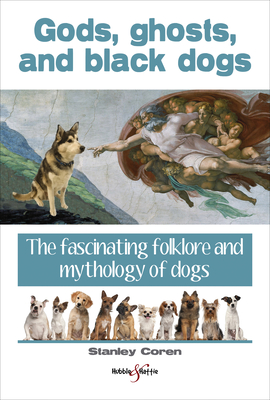 Gods, ghosts and black dogs (Paperback)
The fascinating folklore and mythology of dogs
Hubble & Hattie, 9781845848606, 176pp.
Publication Date: April 14, 2016
* Individual store prices may vary.
Description
Gods, Ghosts and Black Dogs is a rich collection of folklore, mythology, and tall tales concerning dogs, which provide a fascinating insight into the way that humans think about dogs, and our emotional bond to our pets. The various stories include some that are spooky, some that are funny - and some that engage the same part of the mind that we use when reading detective stories, trying to figure out what is going to happen next, or solve a puzzle.
The stories come from all over the world, and from many different time periods. In these captivating tales you can meet historical figures such as George Washington and Davy Crockett, and mythical beings such as Paul Bunyan, the god Zeus, and the hero Odysseus, and find out how dogs make up part of their stories. Discover how the Dalmatian got his spots, and why Basenjis don't bark. Learn whether there are dogs in heaven, and if the devil might have a dog.
Facts, history, humour and mysteries blend together in this engaging collection of dog stories.
About the Author
Stanley Coren is Professor Emeritus in the Department of Psychology at the University of British Columbia. Although best known to the public for his extremely popular books on dogs, he is also a highly respected behavioural researcher, a Fellow of the Royal Society of Canada, and was named as one of the 2000 outstanding scientists of the Twentieth Century. His many books on dog behaviour and human-canine interactions have been international bestsellers and have received many awards such as the Maxwell Medal of Excellence from The Dog Writers Association of America.
Praise For Gods, ghosts and black dogs: The fascinating folklore and mythology of dogs…
"This book, subtitled as "The fascinating folklore and mythology of dogs" by Stanley Coren, amounts to 176 pages including a sparse but adequate Index. Unusual in my experience with Hubble & Hattie publications it contains no illustrations except for line drawings accompanying the title of each piece which seldom amounts to more than four or five pages and with some very adequately covered in two to three! Emeritus Professor Coren, of the Department of Psychology at the University of British Columbia, has written a number of extremely popular books on dogs and is well known by many in the world of dogs. In this particular title he has gathered subjects from all parts of the universe, presenting them in a style which can be easily understood with each piece rapidly read by anyone interested in the role that dogs have played throughout time, featuring in all sorts of situations. I learned, for example, how the Dalmatian got its spots and why Basenjis don't bark, just to mention two! Well written in a very understandable style even though the subject may be complex, I can recommend this book for those interested in such topics and even for those who are not, but would like a quick read. It is my opinion they will be quickly converted! "
- Trevor Turner, May 2016.