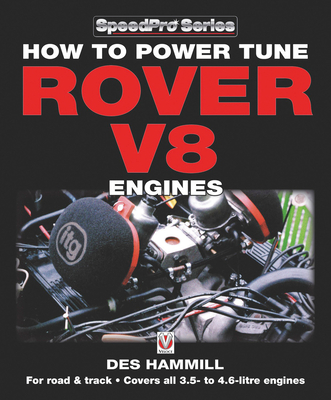 How to Power Tune Rover V8 Engines (Paperback)
For road & track - Covers all 3.5- to 4.6-litre engines (SpeedPro Series)
Veloce Publishing, 9781845848682, 216pp.
Publication Date: February 15, 2016
Other Editions of This Title:
Paperback (7/18/2017)
Paperback (4/1/2004)
* Individual store prices may vary.
Description
Everything you could want top know about increasing the performance and reliability of the Rover V8 engine which has been in production since 1967.
Derived from a Buick design, the engine first appeared in the Rover P5B of 1967, but continued in use through subsequent Rover models: P6 and SD1. Not only a favourite of kit car builders, the Rover V8 also appeared in Morgans, TVRs, Land Rovers, Range Rovers, MGB V8 and the Leyland P76 in Australia.
Coverage includes: limitations of standard components; short block preparation/clearances; solving the oiling & main cap problems of pre- 94 cylinder blocks; full details of cylinder head modifications; optimising ignition settings; exhaust system requirements; Holley, Weber & SU carburettor/inlet manifold options; camshaft & valve train requirements; modifications for racing; modifications for road use.
About the Author
Hailing originally from New Zealand, Des Hammill is a professional engineer with many years of practical experience of building race-winning engines and solving technical problems. The author of several books in the SpeedPro series, Des writes in an easy to understand manner and gives step-by-step guidance. Des also takes his own photographs and creates his own line drawings.