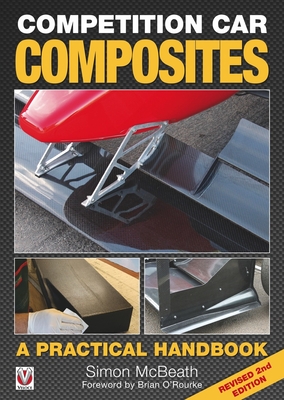 Competition Car Composites (Hardcover)
A Practical Handbook (Revised 2nd Edition)
Veloce Publishing, 9781845849054, 208pp.
Publication Date: August 15, 2016
* Individual store prices may vary.
Description
Composites have been around since ancient civilisations began making bricks from clay and straw. Glass fibre, carbon fibre and aramid fibres - to name but three - are recent innovations, yet today there are few competition cars that don't have at least some components made out of one or more of these materials. However, while it is well known that glass fibre technology can be used in the home workshop, what may not be so widely realised is that more advanced fibres also lend themselves to DIY methods.
This revised edition of Competition Car Composites starts by examining the materials and methods that can be used, explaining basic 'wet' and 'dry' laminating techniques, pattern making and mould construction, and the design and manufacture of components. It then goes on to cover material and technology upgrades, and how more advanced materials can be exploited to achieve improved properties and reduced weight. The use of thermoplastic materials, resin infusion methods, and, especially, 'pre-pregs' in the home workshop, are also discussed, as are the composite techniques used by top racecar constructors.
About the Author
Simon McBeath is a life-long motorsport enthusiast and has been a competitor for over 30 years. Press officer for Gurston Down Speed Hillclimb, where he is also a Hillclimb School instructor, Simon also regularly contributes as a freelance writer to Racecar Engineering and other magazines.
Aerodynamics articles have always been a speciality of Racecar Engineering, with its monthly column, 'Aerobytes,' launched in 2003, carrying out wind tunnel and CFD studies on a wide range of competition cars.
Simon also provides an aerodynamics advisory service, SM AeRo Techniques.