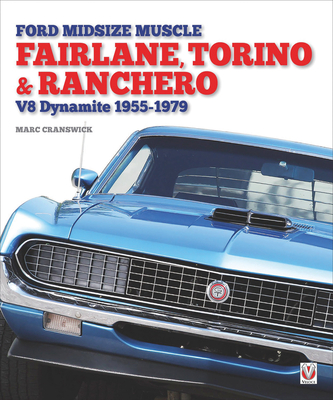 Ford Midsize Muscle - Fairlane, Torino & Ranchero (Hardcover)
V8 Dynamite 1955-1979
Veloce Publishing, 9781845849290, 176pp.
Publication Date: June 14, 2016
* Individual store prices may vary.
Description
Ford Midsize Muscle – Fairlane, Torino & Ranchero details the evolution of Ford's family car through the golden era of Detroit.

See how Henry took the no-frills Fairlane, added more zing to create the Torino, and then satisfied America's luxury desires with the LTD II. Relive the showroom and racetrack battles fought in the evolution of Ford's midsize muscle cars, and witness the creation of the first car-based pickup – the Ranchero. Above all, this book is an account of Ford being ahead of the game.

Through formal study of the postwar American car market, Marc Cranswick brings valuable insight to the topic of muscle cars.
About the Author
Marc Cranswick has had a lifelong interest in cars and all things mechanical, and has written about and drawn the cars that he loves for many years; these include a variety of European, Japanese and American marques. Formal study of the postwar American car market has led to a series of books about the cars and trucks of the Big 3 and independent automakers. He writes enthusiast-directed model history books, and has involvement with many specialist car clubs. His reference book The Cars of American Motors – An Illustrated History, was featured on NBC's business channel CNBC. His other books include Ford Mustang II & Pinto (as seen on channel PBS' MotorWeek); Ford Midsize Muscle - Fairlane, Torino & Ranchero; BMW Classic 5 Series 1972 to 2003; MOPAR Muscle - Barracuda, Dart & Valiant 1960-1980; Mazda Rotary-Engined Cars, and Pontiac Firebird - The Auto-Biography.