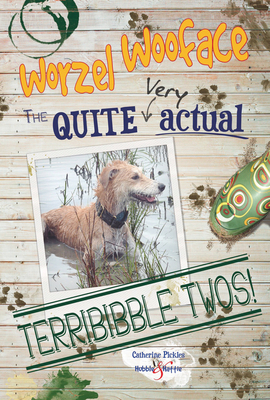 Worzel Wooface - The Quite Very Actual Terribibble Twos (Paperback)
Hubble & Hattie, 9781845849313, 152pp.
Publication Date: November 18, 2016
* Individual store prices may vary.
Description
Things look like they just might be settling down for Worzel. After a year in his forever home, he's come to an almost peaceful truce with most of the cats, persuaded his Mum and Dad that 'sit' isn't essential, and - most importantly - established his place in the middle of the bed.
No longer a cautious puppy, Worzel has discovered an independent streak, and his somewhat dodgy recall has become non-existent. With his sense of adventure matched only by his speed, ponds, pheasants, and a bitch at the end of the lane, are all far, far more interesting than Mum.

Worzel has reached the 'terribibble teenage twos' - that time in every dog's life when their owners wonder if the work, patience and dedication spent in the early days was pointless ... and why everything their dog previously understood has suddenly become, at best, optional, but, more often, ignored!
About the Author
Catherine Pickles is an author, journalist and blogger who lives in Suffolk with her husband Mike. She has two grown up children who have nearly left home! Catherine has fostered numerous sighthounds for Hounds First Sighthound rescue. Her hobbies include sailing, walking, gardening and amateur dramatics, most of which she likes to do with Worzel (apart from gardening, but she doesn't have much choice about it, and the amateur dramatics, which he would hate).
or
Not Currently Available for Direct Purchase