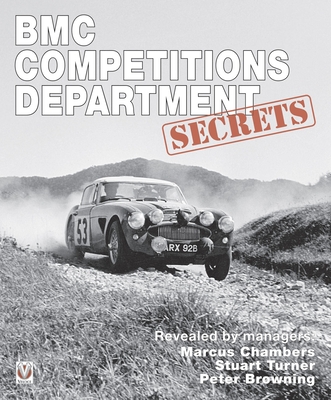 BMC Competition Department Secrets (Paperback)
Veloce Publishing, 9781845849948, 192pp.
Publication Date: November 15, 2016
* Individual store prices may vary.
Description
The revealing and surprising inside story of the legendary BMC Works Competitions Department told by the three Competition Managers of the highly successful BMC/British Leyland race and rally teams based at Abingdon. The book reveals the inner workings and machinations of one of the most successful motor sport teams Britain has ever seen. Based on previously unpublished internal memos and documents, and the recollections of the prime movers, the book describes the ups and downs, and the politics of big time competition in an exciting era. An excellent and entertaining read and an important factual documentation, no motor sport enthusiast should be without this book.
About the Author
Stuart Turner has enjoyed a lifelong involvement in motorsport, both as competitor and team manager. After becoming British Champion navigator, he went on to manage the BMC Competitions. He is now the Chief Executive of the Motorsport Safety Fund, which produces safety training material to help the sport. In 2009, Stuart received the Prince Michael Award of Merit, the Motor Sport Association\u2019s most prestigious award for services to British motorsport.
Marcus Chambers was BMC Competition Manager from 1955-1961, the period during which the Works Austin-Healey was in its heyday. His automotive experience prior to this included driving HRGs at Le Mans, with a class win in 1939, and acting as team manager during 1947 and 1948. He is also the author of "Works wonders: BMC and Rootes." Marcus passed away in 2009 at the age of 98.
Peter Browning enjoyed a 50-year career within motorsport, encompassing racing, rallying, and motorcycling. He is best known as the last competitions manager of BMC, serving between 1967 and 1970, and later BL – acknowledged worldwide as the most successful rally team of the era. As executive director of the British Racing & Sports Car Club (the world's premier race organising club at the time), he was the most experienced clerk of the course in the UK. He spearheaded the creation of many new racing formulae and events, and served on numerous race and rally administrative committees. Peter went on to form his own company, which handled the worldwide media services for Marlboro, motorsport's largest sponsor. He was the founding general secretary of the Austin-Healey Club, and before retirement worked as competitions secretary of the MG Car Club.
or
Not Currently Available for Direct Purchase